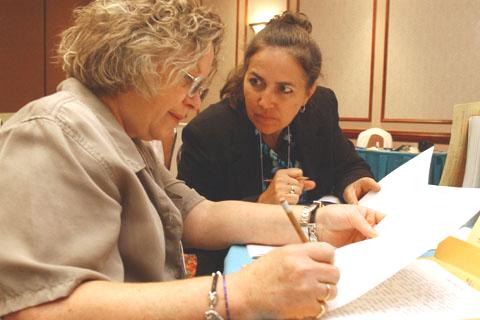 Teachers Linda Jarvis of Calhoun County (right) and Phyllis Pilewski of Harrison County confer as they assess papers at a writing assessment workshop held at the Embassy Suites hotel in Charleston
Photo by M.K. McFarland
Teachers Impressed By Students' Writing Assessments
Sunday July 21, 2002
By Laquita Harris
West Virginia students in grades four, seven and 10 were asked to write about responsibility and how it has affected their lives.
One student chose to express his feelings about how time management is an important aspect of responsibility. He wrote: "I've learned to do things later instead of now."
Another said, "A responsibility that I have is going to school. It has affected my life by making it miserable."
These and several other anonymous quotes were tacked to the wall of the meeting room at the Embassy Suites in downtown Charleston. They were jotted down by a group of more than 180 teachers who spent four days of their summer vacation assessing the students' writing.
Writing assessments are a holistic part of the SAT-9, a standardized achievement test that is administered each April to students in grades three through 11.
Mike Shapolisky is an English and journalism teacher at Buckhannon Upshur. He says the test is "a validation of the students' ability. Since the ACT and SAT are moving toward incorporating writing assessments into their tests, West Virginia is serving a vanguard for writing assessments. I'm definitely seeing growth."
Scorers rate the students on a scale from one to four, with four representing exceptional writing. Papers are scored based on organization, how the paragraph is developed, whether the sentences are complete and formed properly, word usage and mechanics such as capitalization, punctuation and spelling. Text that is incoherent or illegible is not scored.
As a part of training, a packet of 10 papers containing various levels of writing is given to a group of teachers to read along with a rubric detailing how the assessments should be scored. Two teachers read each paper and scores are averaged if they differ by no more than one point.
However, if the scores vary greatly, additional training may be recommended for the scorers and the paper will go to a third reader, said Beth Judy, a coordinator in the Office of Services and Assessment for the West Virginia Department of Education.
Janie Mason, a ninth-grade English teacher, scored papers 17 years ago and is impressed with the improvements she is seeing in writing. "In those days, we rarely had a three, and a four was extremely rare. This year, I've seen massive improvements in the kids' writing. You're less likely to see twos now," she said. Although the students' writing is making strides, more changes are on the horizon for writing assessments. In the future, Judy says online assessments may be administered. "Papers would be scanned and processed at home by teachers. The advantage is we would get the results sooner because students could be pre-tested in September, their weaknesses could be identified and then they would take the test again," she said.
However, a pre-test may not be necessary if this quote, taken from the wall at Embassy Suites, is any indication: "... I see it as a duty to take this one test to prove to my country that I can write."