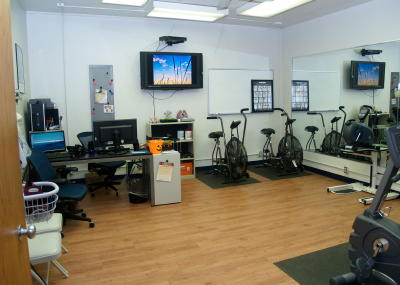 The new Pulmonary Rehabilitation class
room at Minnie Hamilton Health System
An opening ceremony was held in the Cardiopulmonary Wing at Minnie Hamilton Health System for the new Pulmonary Rehabilitation Open House on Oct. 5.
There were many in attendance including several employees, the Cardiopulmonary staff, and patients that received a special invite. The ceremony was led by Rebecca Ewing, LRTC, Director of Cardiopulmonary and Pulmonary Rehabilitation.
After an introduction of the new program and an inspirational message of hope for the patients in attendance, each patient entered the Pulmonary Rehabilitation room with a cheer, "I am ready for some inspiration in my life" and the cutting of a ribbon, a symbol of entering the program with dedication, hope, and inspiration.
The patients were then shown a video titled "Understanding Pulmonary Rehabilitation", followed by a question and answer session. All the patients left the room with a smile and new found hope for their future in living with a COPD [Chronic Obstructive Pulmonary Disease.]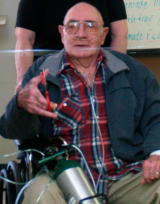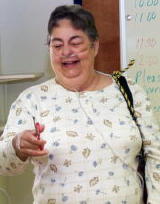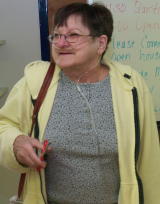 (L-R) Jim Barr, Carolyn Cain and
Janet Stewart participate in the class
Pulmonary Rehabilitation has been long awaited at Minnie Hamilton. Many patients had been prescribed PR by their doctor but were unable to make the required twice a week trip to a PR program outside the county. The closest PR program was over an hour away and most patients were in no condition to travel, not to mention the financial burden it would pose with the price of gas.
Now, with a PR program so close to home, patients will be able to be part of a program that is dedicated to improving their quality of life." Thank you to all of my patients who have been my inspiration in the opening of this program," said, Rebecca Ewing.
Pulmonary Rehabilitation Classes will started at Minnie Hamilton on Oct. 8. PR is a service that is designed for those who experience lung problems such as: COPD; Emphysema; Chronic Bronchitis; Bronchiectasis; Sarcoidosis; Pulmonary Hypertension; Pulmonary Fibrosis; Interstitial Lung Disease; Lung Cancer; Lung Surgery. For more information, please contact the Cardiopulmonary Dept. at 304-354-9721.