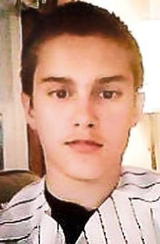 Doddridge County officials have released court documents that say 16-year-old Joseph Spencer called 911 and advised them he had just shot his family on Sept. 3 .

Dead was Spencer's parents and young sister of West Union.

Part of the case file was made public after Circuit Court Judge Tim Sweeney granted a motion by the state to try Spencer as an adult.

The report says Doddridge County sheriff's deputy C.W. Modesitt answered the call to the residence, and when he arrived he apprehended Spencer and placed him in his cruiser.

"Upon clearing all structures on scene, I observed a female lying outside at the foot of the porch steps, dead from apparent gunshots. Through the front downstairs door."

"I observed a female approximately 9 years old lying dead from apparent gunshot wounds. Up the stairs to the residence, and in a back bedroom, I observed a third body. The third body was a male adult," says the report.

The victims were identified as Fred and Dixie Spencer and their young daughter Patience "PJ" Spencer.

Spencer told the officer he loaded a 9mm handgun belonging to his father and shot all three family members before calling 911.

The youth has been charged with three counts of first degree murder.