UPDATE - A felony preliminary hearing on Matthew Lamp is set for Monday in Wood County Magistrate Court, charged with the death of a three-year-old male child.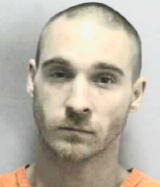 ORIGINAL STORY 12/10/9 - A Parkersburg man, a former resident of Calhoun, was charged Thursday for his alleged involvement in the death of a three- year-old boy.
Parkersburg police have arrested Matthew Edward Lamp, 29, and charged him with the death of a child by a parent, guardian, or custodian
Bond of $400,000 has been set.
Police responded to Camden-Clark Hospital Sunday in reference to a seriously injured child, the mother advised that the three-year-old was injured accidentally while playing in a Parkersburg home.
The child was transported by helicopter to Ruby Memorial Hospital in Morgantown, where he died.
Parkersburg detectives, uniformed officers, and the Crime Scene Technician executed a search warrant on the residence and began a series of interviews, according to Sgt. Greg Collins.
Lamp, who was incarcerated in the North Central Regional Jail on unrelated charges, was interviewed at Parkersburg police headquarters Thursday.
Lamp is the reported boyfriend of the biological mother.
A criminal complaint says the child was left in Lamp's care, during which time the victim received substantial injuries to his body. Lamp allegedly admitted to intentionally striking the victim.
"Numerous detectives have worked long hours since the initial report at CCMC on Sunday. No charges have been filed against the mother, however the investigation is continuing," said Sgt. Collins.
Detective J.M. Stalnaker and Detective J.E. Corbitt arrested Lamp, who has an extensive crimninal record of 28 offenses going back a decade.
Records indicate Lamp was arrested in Grantsville more than a decade ago after he threw a bicycle off the Grantsville bridge.
Lamp could face 10 to 40 years in prison if convicted on the charge.