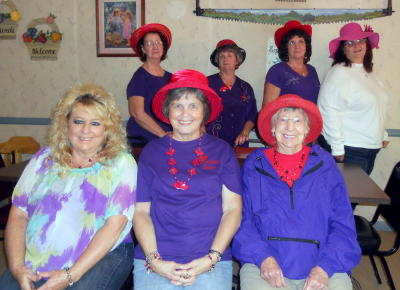 (Standing L to R) Juanita Boggs-Saunders, Yvonne Church, Sharon Knotts,
Sherry Brown; (Seated L to R) Marty Park, Lorraine Bailey, Gae Bailey
The Glamour Girls, local chapter of the Red Hat Society, met at the "Y" Restaurant September 26th, for a very good lunch at noon.
They approved sending their annual donation to the "Hur Herald", and also contacting the schools for their annual "Coats For Kids" project.
They played games, gave out a door prize and had a great time just chatting.
They scheduled their next get-together for Wednesday, October 31st, and a few gals will be joining the Sunny Cal Gals for their Halloween party on Saturday the 27th in Grantsville.