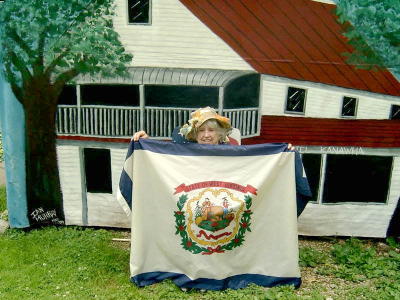 The late Mrs. Winnie Murray
The hotel is one of the longest standing structures along the Little Kanawha River, used by folks during the days of riverboat traveling.
On October 6, Wirt County Pioneer Day will be honoring the life of Mrs. Winnie Murray at the Little Kanawha Hotel in Elizabeth, WV.
Winnie owned the hotel, hosted tours, and shared its stories with countless visitors over the years.
A brief committal service for Winnie will begin at 10:00 a.m. and include the raising of the WV flag, the singing of "The West Virginia Hills", and the song, Amazing Grace, played on the bagpipes by Anna Border. Reverend Lee Williams will lead the committal prayer.
Her stone has been engraved with her name and "Her story was History." The stone will be placed beside the flagpole and her ashes will be buried there.
The first tour of the hotel will follow, using some of her DVD's on screens at the old stone door and in the teachers' room upstairs.
Children will have the opportunity to make a hat in the hat room to follow up the theme of "Hats Off to Wirt County".
We invite you to share in the memories of Mrs. Murray's life.