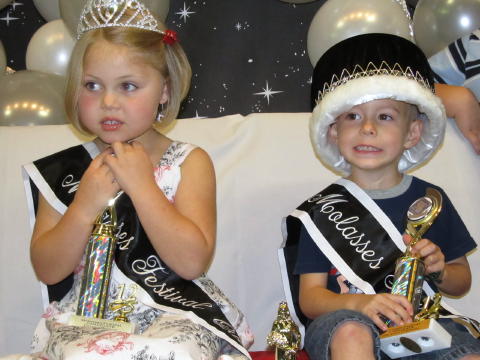 King Jackson Clawson, son of Mr. and Mrs. Rick Clawson
of Pink, and Queen Cyrene Wilson, daughter of Mr. and Mrs. Mike
Wilson of Arnoldsburg, are the 2012 Molasses Festival Royalty
This year's student contest to be the 2012 Molasses Festival King and Queen topped $12,000.
The royalty, selected from the student body of Arnoldsburg Elementary School, selected by a penny-a-vote.
1st runners-up, Josie Montgomery and Noah Butler.
2nd runners-up, Eliza Miller and Levi Allen.
Arnoldsburg Elementary Contestants:
Addison McCumbers, Ayden Johnston, Maddison McCumbers, Bryant Fulks, Jayden Knicely, Trenton Nelson, Mackenzie Bailey, Tyler Nelson, Destiny Tanner, Brooklyn Swisher, Caden Wright, Kaitlyn Marks, Hunter Schoolcraft, Drue Goad, Nicole Wolf, Breanna Bowers, Austin Badgett.