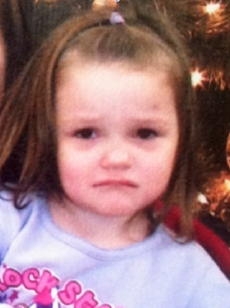 It's been one year since a Lewis County toddler vanished from her home.
A ceremony was held Monday evening at the Bendale United Methodist Church to remember 3-year-old Aliayah Lunsford.
Lena Lunsford told police her daughter was in bed in the family's home in Bendale at 6:30 a.m. Sept. 24, 2011, but the girl was not there when she checked on the toddler a few hours later.
Both Lena and stepfather Ralph have faced a lot of public scrutiny over the little girl's disappearance, but investigators refuse to say if they are suspects.
Lena Lunsford has been sentenced on welfare fraud charges.
The FBI says they do not believe an intruder took her, but they will not say what they believe did happen, or whether they think Aliayah is alive.
The case has received national attention from the media and several groups have come together to search for her.
Aliayah's great-aunt Vickie Bowen said it seems the world has forgotten her, but Bowen and relatives still search regularly.
Lewis County Sheriff's Deputy Lt. David Parks said it's still an active case.