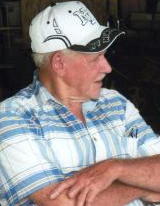 A ride and trade day is being held in honor of the late Jim Pursley who passed away suddenly July 15.
The event to be held Saturday in Sutton, combining two of the many things that defined who Jim was, his love of horses and helping others.
The event is being hosted by Charles "Butch" Shaffer, lifelong friend of Jim.
There will be a "potluck" dinner and "trade" after the ride, you may bring a covered dish and any items you wish to "trade". Wagons and teams are also welcome. This will be a family friendly gathering to visit old friends and make new one's.
Registration begins at 8:00 a.m. and the Ride Out begins: 11:00 a.m.
Directions: Take the Sutton-Gassaway exit 62 turn left into Sutton, at the stop sign turn right and cross the bridge take old US Rt. 19 to Wolfe Creek Rd. at the Spruce Lick Church turn right and go approx. 1 mile. Follow Signs.
For more information contact Butch Shaffer at 304-765-5889 and after 9 p.m. at 304-644-6013 or Beth Webb 304-927-6061.
See Jim's complete obituary James C. Pursley
For more details, directions and to register see Saddle Up