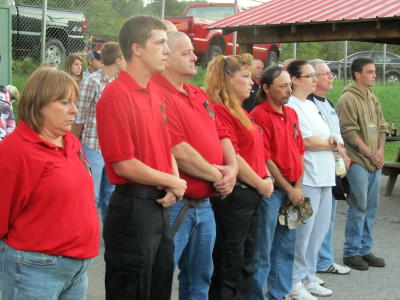 Responders honor fallen policeman Eric Workman
By Bob Weaver 2012
HurHerald/Judy Powell Photos
"He was the kind of officer that was professional and gave respect," said Calhoun Chief Deputy Carl Ballengee, who talked about Trooper Eric Michael Workman's life, cut down early by a shooters bullet.
The memorial was organized by the Grantsville Volunteer Fire Department.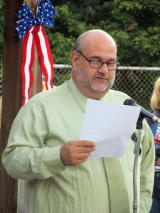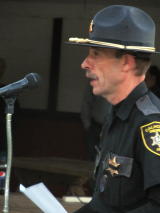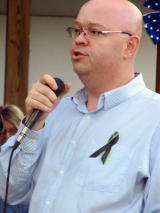 (L to R) Pastor John Lowther, Chief Deputy Carl Ballengee,
Magistrate Rick Postalwait remember Trooper Workman
Ballengee said Workman's Christian values shown brightly during his short assignment to Calhoun County.
Calhoun Magistrate Rick Postalwait spoke about the downed officers commitment to law enforcement, "He was dedicated to getting the job done."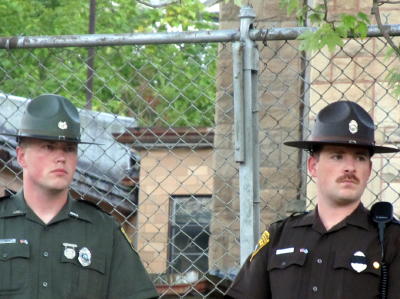 Law enforcement listen to soloist Pam Davis sing, "Go rest high on that mountain, 'cause, son, your work on earth is done"
Pastor John Lowther of the Knotts Memorial United Methodist Church eulogized Trooper Workman and honored the work done by law enforcement, while soloists offered music in his memory, including "Go Rest High on the Mountain."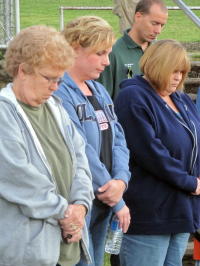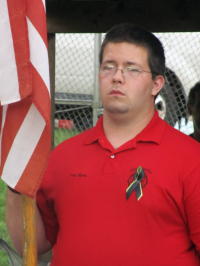 Community members and responders participate in solemn ceremony
Responders and community members bowed their heads in silence, contemplating Workman's life and death.
A three-round volley of gunfire and taps was played at the conclusion of the memorial.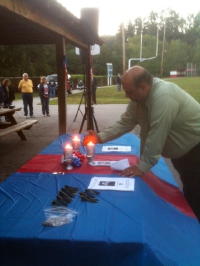 Old solider fires volley, Pastor Lowther lights memory candle
See TROOPER WORKMAN 'STARTED SLOW, FINISHED STRONG' - Laid To Rest In Clay County