Following head-on collision, car lands in grassy
field, with woman having to be extracted ...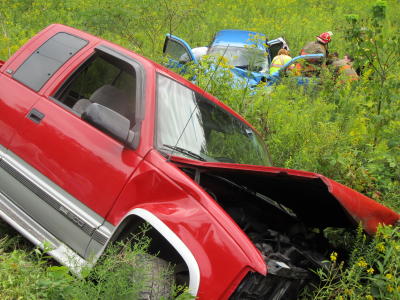 ... Pick-up truck, following crash,
came to rest on edge of embankment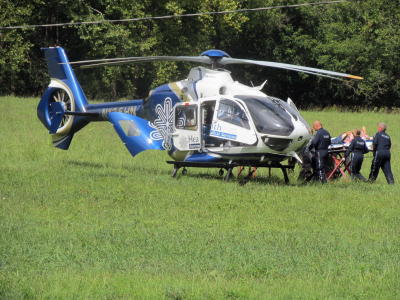 Woman driver was life-flighted
to CAMC from Corder Bridge field
A head-on collision injured the drivers of the vehicles and a child at Letherbark on US 33-119 near the Roane line at 1 p.m. Tuesday.
Following the impact, the car landed in a grassy field and the truck landed on the edge of the road embankment.
A woman in a compact car had to the extracted by responders and was flown to CAMC by HealthNet, reportedly suffering from a leg injury.
The driver of a truck, Joey McCune of Letherbark and his small daughter were taken to Roane General Hospital by Calhoun EMS.
In addition to Calhoun EMS, the Arnoldsburg VFD, the Spencer-Roane VFD and Roane County EMS responded.
State Police are investigating.
A Stinson man was injured while riding an ATV Tuesday evening, and was life-flighted to a hospital.
Reports indicated the man suffered one or more fractures, and possibly other injuries.
Calhoun EMS and the Upper West Fork VFD responded to the call at 5:21 p.m.