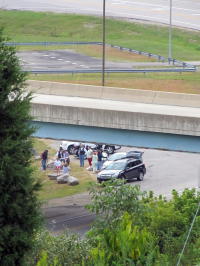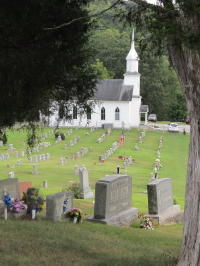 As sun sets at Wallback Interchange Sunday, a parade of
visitors continues where two State Troopers were gunned
down, as Pleasant Hill Baptist church members congregate
on the hill above, offering prayers for family members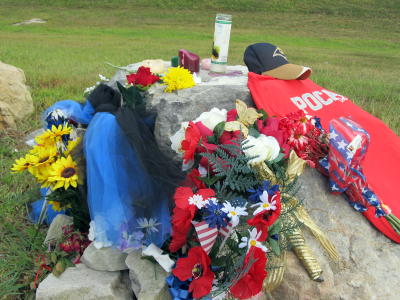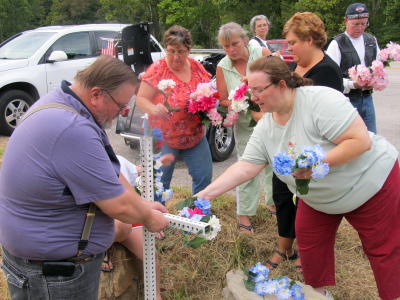 They came to the site, one after another, pausing to place
flowers, candles and messages at a make-shift memorial
By Bob Weaver 2012
While thousands attended the funeral of fallen State Policeman Cpl. Marshall Bailey Sunday in Charleston, a steady flow of people came to the parking lot at the Wallback I-79 exchange to place flowers, candles and leave messages honoring the troopers gunned down last Tuesday.
Many of them recalled their long-time relationship with Cpl. Bailey, while others were family and friends of Ivydale resident Trooper Eric Michael Workman, both officers having been assigned to the Clay detachment.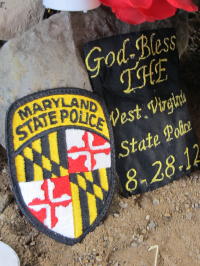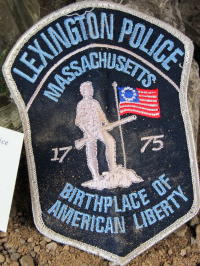 Police officers from around the USA stopped on
their way to the funeral of Cpl. Marshall Bailey
A tall lanky youth pulled over and came toward the memorials, placing a single plastic flower in front of Workman's photograph, weeping uncontrollably.
"I went to school with him, and we hunted together," he said.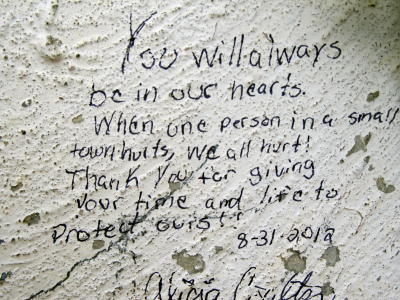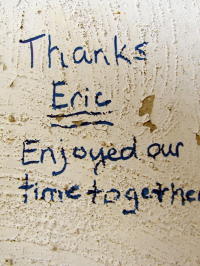 Clay County residents scribbled personal
messages on Interstate posts and rocks
In Charleston, Cpl. Jim Mitchell, the State Police chaplain, addressed the Civic Center congregation, reminding them that "There are truly evil people in the world."
He was speaking of the Oak Hill man who shot the troopers in their cruiser, shot a tow truck driver and Roane County deputy before he was brought down, the latter two surviving.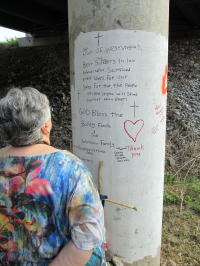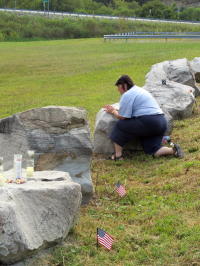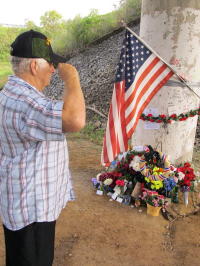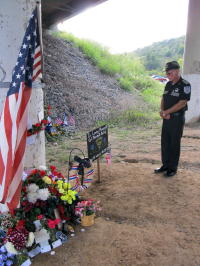 Each person had a message or a prayer
Several women came to the decorative rocks and knelled in prayer, while a number of old soldiers walked to the make-shift memorial to issue a salute.
Others scribbled personal messages on the Interstate pillars, while children lit candles and left written messages amongst the flowers.
A man said, "I have been arrested by Bailey several times, but he always treated me fairly."
A family returning north from the funeral stopped to pay their respects again and view the scene of the tragedy, wandering across State Route 36 to a Natural Resources barn to where the assailant fled, and where he exchanged gunfire with officers and was brought down.
As the sun began to set, at the Pleasant Hill Baptist Church overlooking the scene, parishioners came to offer prayers for the family, the community to stand silent again except for the Interstate traffic, but with memories remaining of the tragic event.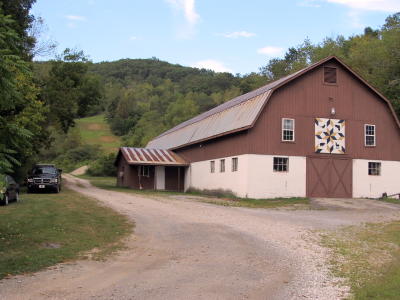 Across WV Rt. 36 is a barn near where the shooter took
refuge, fired upon officers and was brought down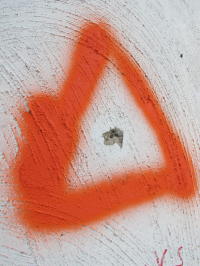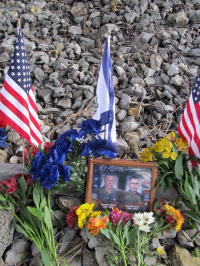 A grim reminder (left) in a Interstate pillar is a bullet
hole, a few feet away the photos of the downed officers