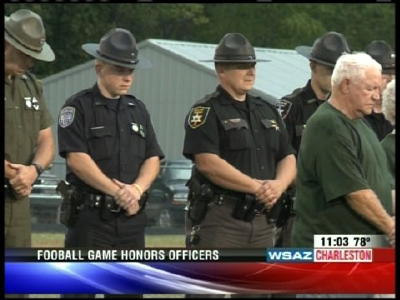 ROANE COUNTY, W.Va. (WSAZ) -- A Roane County High School football game was dedicated to law enforcement officers everywhere Friday night, inspired by this week's tragic shooting that killed two West Virginia State Police officers and injured a sheriff's deputy.
Crowds reflected on the lives of two fallen troopers who lost their lives Tuesday night -- Marshall Bailey and Eric Workman. A special ceremony before the game honored their sacrifices, along with an injured officer belonging to the community.
Roane County Sheriff's Deputy John Westfall also was caught in the line of fire and is currently recovering. His life was saved by wearing a bulletproof vest.
"All of those police officers work hard, risking their lives," Principal Mitchell Nida said. "This is a way to help people grieve over this tragedy and come together."
Westfall's daughter Grace attends Roane County High School and serves as a water girl for the football team at games. She wrote a special poem for the occasion describing heroes like her father.
"Each and every day, they wake up and put on their uniforms to protect our country, our state, our communities, and our families," she wrote.
State officials led law enforcement officers onto the field before the game and presented them an award from the governor, honoring their service.
The football team stood in respectful silence and sported special helmets for the game that showed the state police emblem and Westfall's initials.
"We've been really concerned all week and continue to make sure that John [Westfall] is OK," head coach Paul Burdette said. "As well as Grace, she's part of our football family. So it's great to have everybody come together to remember these fellows."