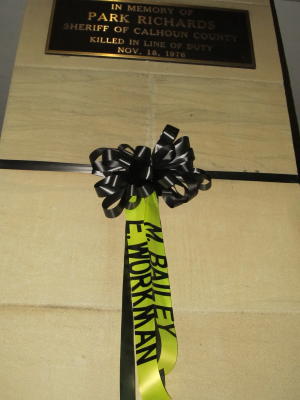 Ribbons have been placed on the Calhoun Courthouse
in memory of WV State Troopers killed by a gunman, below
a plaque that remembers fallen Calhoun Sheriff Park Richards
A State Policeman who did his "rookie duty" in Calhoun and was recently sent to the Clay Detachment has died, the victim of a shooter's bullet Tuesday.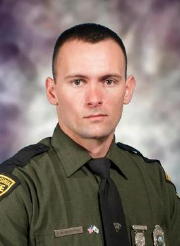 Trooper Eric Michael Workman, 26 (left) a native of Clay County, was among four gunshot victims of Luke Baber, two of which are now surviving.
Workman was killed by the assailants gunfire at Wallback with seventeen-year-veteran officer Marshall Bailey, also assigned to Clay, who did not survive. Bailey's funeral is set for Sunday in Charleston.
Trooper Workman's family would like to inform the public that he is an organ donor. "It is the family's sincere hope that even in his death, his selfless service to others will continue by providing others an opportunity to live a fruitful life," they said.
Workman's hometown of Clay is already decorated in black and blue ribbons and signs of support. A candlelight vigil was held at the Clay County courthouse Thursday night.
"Trooper Workman was an outstanding young man with a promising future. It is unfortunate his life was cut short by this senseless and cowardly act. Our prayers continue to be with his family and friends. I am overwhelmed by the support the West Virginia State Police family is receiving during this difficult time," says Colonel Jay Smithers.
Funeral arrangements are being completed.
Workman enrolled with the State Police in January 2011, played baseball at West Virginia State University and made the 1st All-Conference team in 2008 and 2009.
During his time at WVSU, he broke numerous school records and ranks first in games played, runs scored, hits, doubles and triples in school history.
He was also named Player of the Year in 2009 by the West Virginia Conference coaches.
Friends say Workman was popular guy when he attended Clay County High School, graduating in 2004.
He is the son of Connie Workman, Clay County Clerk.