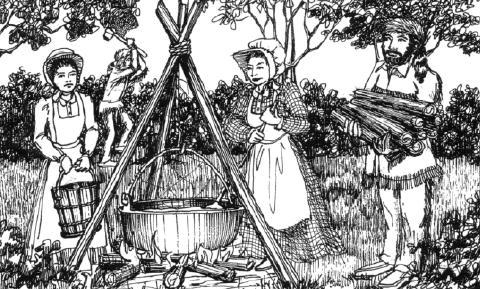 CAIRO, W.Va. - The September 7 deadline has passed for the 45th Annual Nature Wonder Wildfoods Weekend, at North Bend State Park Sept. 21-23.
National wild foods foraging expert Sam Thayer will be the featured speaker. The event begins Friday evening and concludes Sunday. It includes speakers, presentations, collection and preparation of wild foods. The registration form is available at href="http://www.wvdnr.gov/Nature_Brochure.pdfwvdnr.gov/Nature_Brochure
During the first Nature Wonder Weekend, participants enjoyed a wild food walk in the park with noted wild foods author Euell Gibbons. Gibbons told about his experiences with little-used free foods from the land such as black walnuts, mountain-tea berries, pawpaws and wild fox grapes. That walk was the beginning of the Gibbons Nature Trail, which has been enhanced this year and will reflect the recent national focus on nature trail enjoyment.
Many guests return year after year for Nature Wonder Weekend, but first-timers are always welcome. "After all, we came here 45 years ago as beginners to hear Euell Gibbons speak about his slant on nature appreciation," said Edelene Wood, president of the National Wildfoods Association. "Many of us liked his ideas and the edible wild plants he identified, and we want that to continue."
The weekend offers overnight packages as well as day-only attendance options. To register, please contact Teri Surface at the West Virginia Division of Natural Resources at 304-558-2754 or email Teri.L.Surface@wv.gov. Overnight options include lodge rooms, cabins, or camping sites. Please specify your preference during registration.
Although wild foods are featured throughout the weekend, five conventional meals will be provided by the North Bend Lodge Restaurant.
About Sam Thayer
Featured speaker Sam Thayer is the author of two wild food foraging books. He previously has been a Nature Wonder Weekend participant as a camper, speaker and wild food awards winner, and has been named to the National Wildfoods Hall of Fame. He helped establish the Midwest Wild Harvest Festival and has assisted in the development of a nature appreciation trail in Wisconsin, where he lives with his wife, Melissa, and their two children.
Nature Wonder Weekend Schedule
Registration begins at the North Bend State Park Lodge Friday, Sept. 21, from 2 p.m. to 8 p.m. A park tour is scheduled at 3 p.m. and a buffet dinner is at 6:30 p.m. A Wild Foods Cooking Contest will be held that evening, including prizes for best wild food cooks, best wild cake and best wild drink.
After Saturday breakfast, small groups will take guided hikes in search of edible foods. Following lunch, the groups will prepare wild foods for the social hour that evening.
Sunday will include a morning worship service and a wild foods workshop led by Robbie Vance of Mingo Junction, Ohio, and Ron Nornhold of Troxelville, Pennsylvania.