State Police charged a Little Creek Rd. man with assault on an officer and trespassing on property after an order was obtained in March, 2012, to keep him off the premises.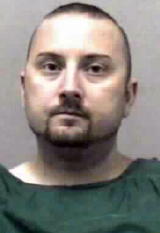 Jesse David Carpenter, 30 (left) according to the criminal complaint, cut the phone line to his grandmother Jeanne Stutler's residence, causing the grandmother to go to a neighbor's house to call 911 for help.
When State Police arrived, they said that Carpenter was in the house, unclear about him possessing weapons.
State Police officers from Calhoun and Wirt cleared the residence and discovered Carpenter in a back bedroom "lying on his back with a sword in his right hand and a cross-bow in his left," the crossbow was aimed at the door, according to the complaint.
The complaint says Trooper J. A. Newman instructed Carpenter "to place the weapons on the ground or deadly force would be used," after which Carpenter told the officers, "he might want that to happen."
Trooper Newman says that he convinced the defendant to drop the weapons, after which he was taken into custody.
Carpenter is being held in Central Regional Jail on $1,100 bond.
Police responded to a man with a knife Monday evening, reportedly threatening to harm himself at a residence on Bowser Rd. near Rt. 16, Big Springs.
State Police and NRPO answered the call about 7 p.m. and reported the situation was under control.