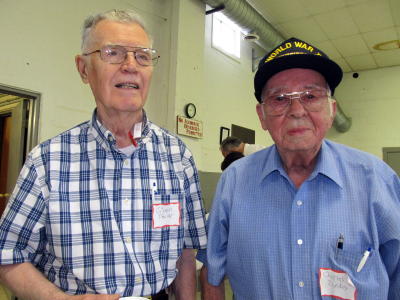 Two Greatest Generation vets Glen Fowler (left) and
Charlie Duskey, 90+, were among the oldest attending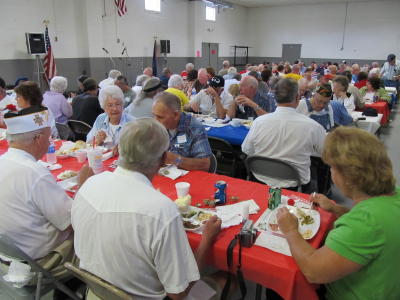 Vets and their families from all wars attended the annual event
The 13th Annual Veteran's Appreciation Day Dinner at Arnoldsburg Saturday recognized veterans who have served and are serving in the US military, sponsored by Grantsville's VFW Post 5959 and Ladies Auxiliary.
There is sobering proof that the Greatest Generation is dwindling fast by looking at archived stories and photos of the event on the Hur Herald.
A number of Calhoun and regional World War II vets came to the appreciation day.
Some 270,000 World War II vets died in 2011, an average of 740 a day, according to the U.S. Department of Veterans Affairs.
The war officially ended with Japan's formal surrender on Sept. 2, 1945. Department of Veterans Affairs spokesman Phil Budahn notes "there were a number of underage servicemen who went off and did their bidding" in the war.
That means a 17-year-old who served at the tail end of hostilities would be 84 now. And if that 84-year-old is blessed with Frank Buckles-style genes and robust health, he'll be turning 110 in 2038.
Buckles, a West Virginian, was one of two of the last World War I vets who passed.
The VA projects that 370 WWII vets will be alive on Sept. 30, 2036 — 91 years after the end of the war.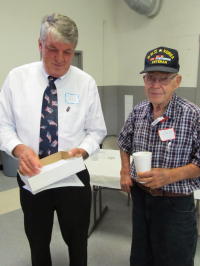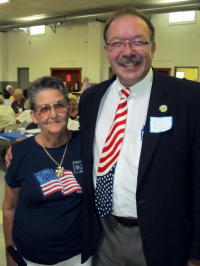 (L-R) Delegate David Walker and WWII vet Bernard
Wyatt; VFW Ladies Auxiliary organizer Frances
Tanner with VFW state rep Billy Wayne Bailey
Mr. and Mrs. Gene Deel, celebrating their 62nd wedding anniversary
Delegate David Walker said Saturday, "When it's all said and done, it is about protecting the great freedoms we enjoy." Billy Wayne Bailey, Asst. State Secretary of the VFW, also spoke to the audience.
VFW van drivers Burl Simers was recognized for devoting 123 hours and Robert Yoak for donating 86 hours. Van driver coordinators are Paul and Freda Whytsell.
VFW 5959 officers: Scottie Mathes, Commander; Jimmy Yeager, Sr. Vice Commander; Kevin Reed, Jr. Vice Commander; Art Bell, Quartermaster; Adjutant, Paul Whytsell; Robert Reed, Chaplain; Frank Simers, Phillip Beale, Travis Dueley, Trustees.
VFW 5959 Auxiliary Officers: France Tanner, Present; Frances Adwell, Sr. Vice President; Donna LaGrone, Jr. Vice President; Tina Whytsell, Treasurer; Freda Whytsell, Secretary; Chelsea Jones, Conductress; Kim Marcou, Guard; Michelle Smith, Freda Whytsell, Donna LaGrone, Trustees.