By David Hedges, Publisher
Times Record-Roane County Reporter

After spending more than two years in jail awaiting trial, a Calhoun County man charged with killing a Spencer, teenager who disappeared six years ago has pled guilty to second-degree murder.

Now it is up to the judge in the case to decide whether, or not to accept the plea.

"This probably won't please anyone, but at least it gives closure to everyone," prosecuting attorney Rocky Holmes said after the hearing in Calhoun Circuit Court Monday.

"At least that's something," he said.

William A. "Seth" Denmark, now 25, was charged with the murder of David Wayne Beach III, a 17-year-old Spencer resident once described as Denmark's best friend.

Beach left his home in Spencer on Mother's Day in 2006 and told his mother, Barbara Hicks, he was going to meet up with a friend.

She never saw him again.

Denmark allegedly took Beach to the Denmark family farm on Beech Road, near Arnoldsburg.

Police said he held Beach at gunpoint and forced him to dig his own grave. When he was done, Denmark allegedly shot Beach in in the head and buried him in the hole.

A Spencer Woman, Veronica Cottrill, who testified at a preliminary hearing after Denmark was arrested in 2010, said Denmark forced her to hold a flashlight while he covered Beach's body with dirt. If she refused, he allegedly threatened do the same thing to her and her infant child as he did to Beach.

Since no body was found, Denmark initially was charged only with kidnapping.

Police said Denmark believed Beach had been talking about another crime that allegedly occurred in April of that year when the two walked to Aaron Lloyd's residence on Jesses Run and Denmark allegedly shot Lloyd in the leg.

Police believe the bullet removed from Lloyd's leg at Roane General Hospital may have been fired from the same gun used to kill Beach, but that was never proven.

In March 201O, just before Denmark's arrest, police dug up the alleged grave and reportedly found a .38 caliber bullet and evidence a body had been there.

After testing, Holmes' said the bullet police unearthed in the hole could not be tied to either crime. "We couldn't positively match that bullet to any firearm in either of the cases, "Holmes said.

Police also found what was described as traces of human matter, which also proved to be inconclusive, even after the evidence was sent to the Smithsonian Institution for forensic analysis.

"We could not get DNA from that," Holmes said. "It had decayed too much."

Police also obtained a search warrant for a vehicle owned by Denmark, alleging an informant reported Denmark had moved the body from its original burial location on the Denmark farm.

Holmes said, one reason the case went on as long as it did was that authorities were trying to learn where the body was taken.

Denmark's mother and father were arrested at the same time as their son, but those charges were eventually dismissed.

Jackie Denmark was charged with aiding and abetting a kidnapping which alleged she helped her son evade capture after he kidnapped Beach.

The elder William A. Denmark was charged with conspiracy to commit a felony that alleged he helped his son and Beach plan to shoot Lloyd.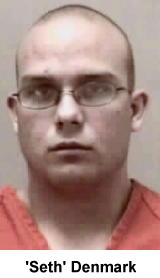 In April of this year, Jackie Denmark filed suit in federal court alleging the arresting officer, Cpl. Doug Starcher of the W.Va. State Police, violated her civil rights.
She said Starcher allegedly told her son he would arrest his mother if he did not disclose where Beach's body was located.
Jackie Denmark spent three months in jail after her arrest and more time on home confinement once she was released on bond.
Although the charge of second degree murder carries a penalty of up to 40 years in prison, the plea entered by Seth Denmark is a binding plea that limits the judge in sentencing.
Should Judge David Nibert agree to the terms of the plea, he could not sentence Denmark to more than 10 years.
Holmes said Denmark would not be eligible for parole before the 10 years was up.
Under normal circumstances, Holmes said if Denmark had been sentenced to 20 years, he could have accumulated "good time" and completed the sentence in 10 years.
Holmes said Denmark might have been eligible for parole in only five years.
"This way he serves the flat 10 (years)," Holmes said.
Under the terms of the plea, Denmark, who is currently being held at the Central Regional Jail, would receive credit for time already served. Holmes said the details have yet to be worked out.
While the prosecutor believes that credit should only go back to this March, when Denmark was indicted for murder, defense attorney Barbara Schamberger has argued it should be March 2010, when Denmark was first charged with kidnapping.
But all that could be moot if Nibert decides not to accept the plea.
It is an Alford-type plea which means Denmark agrees to plead to guilty without admitting to the crime.
Nibert granted Holmes' request that the 15-page plea agreement be sealed and not open to the public.
"It was sealed due to other criminal investigations that will be rolling out of this case," Holmes said. Due to the nature of the other criminal investigations, we can't disclose too much information."
During Monday's hearing, Nibert commented that the plea had a lot of detail and provided a factual basis to sustain the charge.
Nibert ordered the probation department to do an investigation before the next court hearing, set for Sept. 17.
Holmes said it was premature to call it a pre-sentence investigation.
"It's more of an investigation to determine if the binding plea should be accepted or not," Holmes said.
Judges don't like binding pleas," he said. "It essentially does away with their ability to be a judge."
"It's probably 50-50 whether the judge will take it or not," he said. "If he doesn't accept it, we start all over again."
Holmes, whose term ends in December, said he is the fourth prosecutor to work on the case. In January, if the case is still active, that number will go to five.
He said Denmark has been represented by three attorneys, including one now deceased.
The case is six years old," he said. "It's drug on as long as it can. I think this is one of the best deals I could get.
Holmes said Beach's mother who now lives in Calhoun County, was consulted about the plea and gave her support.
Even though everyone wanted it done the prosecutor said nobody is going to be happy with it.
"But if it went to trial, it was going to be a gamble for both sides," he said. "This will put an end to it, unless the judge rejects it."
But one question still remains. What happened to the body of David Wayne Beach III?
As for any evidence Beach is dead, Holmes would only say, "I can't comment on that now."