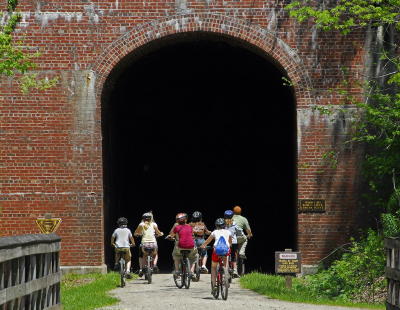 CAIRO, W.Va. - An introduction to mountain biking will be offered at North Bend State Park on Saturday September 1, and Sunday September 2. Instructor Kim Coram will cover the basics any beginner needs to know to get started in mountain biking. There are four classes over the two-day period. Attendees can attend one or all of the classes.
"Attending all is the best plan," advised North Bend State Park Supt. Steve Jones. "The classes cover all aspects of biking to help beginners understand the activity as recreation as well as exercise. They will learn all aspects of bikes, trails, and safety."
Space is limited and registration is required. There is a course fee of $30 to cover classes and materials. Weekend classes include:
Mountain Biking - Class 1: Introduction to biking Saturday, September 1, 9 a.m.-1 p.m. This four-hour session will teach the basics, fit your bike to you, take you through a basic tune-up and then off to North Bend Rail Trail to ride and learn to use your gears, set your cadence, apply brakes properly and enjoy a great trail.
Mountain Biking - Class 2: Introduction to mountain biking skills Saturday, September 1, 2 p.m. - 4:30 p.m. Using the curriculum of the National Interscholastic Cycling Association, students will learn the basics of mountain biking to include drills for "heavy feet, light hands," learning the "attack position" while maneuvering over obstacles, weight distribution, and much more. This class will be conducted in a field with "drill stations" for skills development.
Mountain Biking - Class 3: Beginning mountain bike skills on the trail Sunday, September 2, 9 a.m.-noon. This class will be conducted on the single-track mountain bike trails at the park. Students will ride the trails and stop to practice skills at designated locations. This class will last 3 hours.
Mountain Biking - Class 4: Introduction to trail building Sunday, September 2, 1 - 2 p.m. Many of West Virginia's trail systems thrive because of volunteer labor. This class will develop a section of mountain bike trail. The basic engineering of trail development will be taught.
About Instructor Kim Coram
Kim Coram has been teaching outdoor recreation for more than 15 years. Selected as one of West Virginia's top executives for her work in the field, Kim brings a wealth of knowledge, a variety of experience and a love for teaching. Kim is a member of the International Mountain Bike Association's Regional Leadership Advisory Council, served as the vice-president of the West Virginia Mountain Bike Association, was the mountain bike representative on the Parkersburg Bicycle Advisory Board, and currently is working with West Virginia Schools to bring mountain biking into the physical education curriculum along with establishing mountain bike racing clubs into schools.