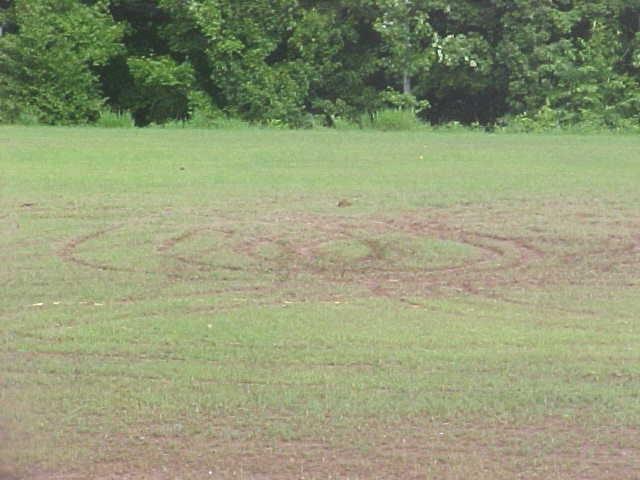 Doughnuts cause deep ruts on athletic fields
Two Calhoun juveniles, ages 14 and 16, have been arrested after reportedly stealing up to three vehicles. The youth's, who might have had other accomplices, likely stole two vehicles in Grantsville, eventually driving them down Altizer Road near Arnoldsburg. Then they took a third vehicle, a 3/4 ton 4 x 4 truck belonging to Ray Hall, which was parked at Houchin Construction.
Piecing the escapade together was difficult.
A Chevy Cavalier belonging to Loretta Smith of Grantsville and a Ford Ranger with Ohio plates were spotted near Houchin Construction Company. Steve Boggs, a Houchin employee, arrived at work at 4 a.m. and noticed a parked auto covered with mud, and began to investigate.
Boggs and a co-worker encountered one of the juveniles on the highway, driving Ray Hall's vehicle. He ordered him out of the truck. The youth reportedly said "I just bought this pick-up." Boggs said he got out, and left the area to come back up the road later in the Ford Ranger.
"This time he was spotted by Sheriff Parsons," said Boggs. Parsons pursued the Ford Ranger, which was now occupied by two juveniles. The juveniles lost control of the vehicle near the mouth of Sinking Springs, wrecking it, after which they were taken into custody by Parsons.
They were taken to a Salem correctional facility yesterday afternoon, according to Deputy Sheriff Carl Ballengee.
Meanwhile, two athletic fields and a lawn at Calhoun Middle/High School were heavily damaged early yesterday morning. A fourth stolen vehicle, a truck with a flat tire, was discovered on school property by early morning workers, who called authorities. The occupants fled the area.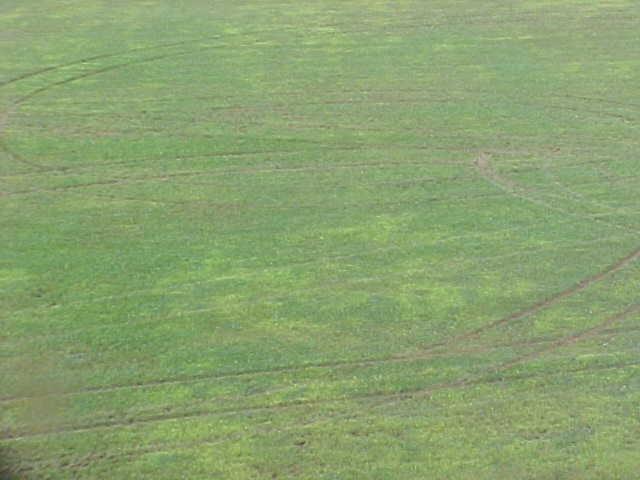 Birds eye view of football field damage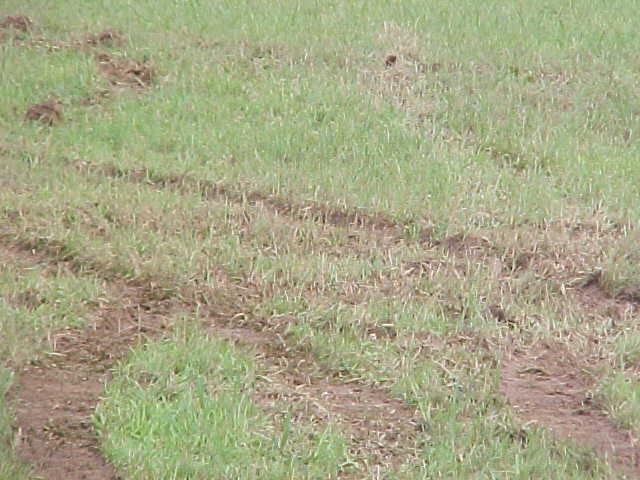 Deep ruts caused by vandals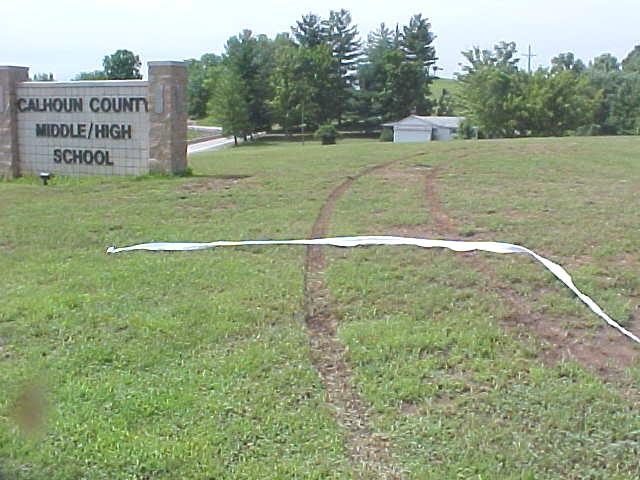 Truck had flat tire after damaging lawn
It was unclear if the school incident and the three other stolen vehicles were connected. Deputy Carl Ballengee said "There has been a lot going on, day and night, these past 72 hours. It has been difficult to track."
Calhoun High Principal Roger Propst said "So many people have spent time and given money for the athletic projects, it is sickening to to look at the vandalism."
Propst said the damage was done by a truck "doing doughnuts" and circling the wet football and practice fields, causing heavy ruts. The vehicle then drove across the front lawn. "We'll still make it work," said Propst, noting Jeff Houchin and others were attempting to repair the field yesterday afternoon.
Roane County High School experienced $3000 in vandalism to a fence around their football field and other damage last week. The incident also involved a stolen car.
The Calhoun Sheriff's Department has been going non-stop this week responding to numerous calls, stolen vehicles, a New Hampshire fugitive from justice arrest and other incidents.
Calhoun EMS responded about 7 a.m. yesterday to a single vehicle accident on Nighcut Hill on Route 5 west of Grantsville. The woman driver was taken to Minnie Hamilton Health Care Center for unknown injuries. The Grantsville VFD and Trooper Hunt also responded.
A flatbed truck lost its cargo, what appeared to be a large generator, about 2 p.m. yesterday. Traffic was blocked for three hours on Route 16 north of Grantsville on Pleasant Hill, waiting for the arrival of two heavy duty wreckers from out of the area. There was no injuries.
A Roane County man was injured by a gunshot wound on Stover Fork at 9 p.m. Thursday. Roane EMS and the Spencer-Roane VFD responded to the area, with the victim located on a hill. HealthNet transported the man to Charleston Area Medical Center.