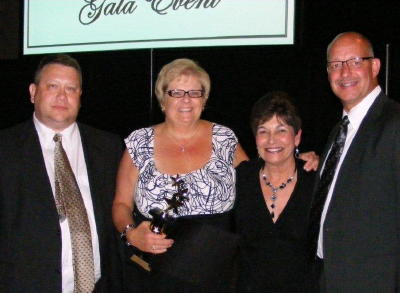 Pictured (L-R) Nancy's husband Dwane Weekley,
Nancy, Dr. Kathy D'Antoni, and Bryan P. Sterns
Bryan P. Sterns says "It is with great pride that I announce that at the recent Celebrating the Stars Gala at the Charleston Civic Center our own Nancy Weekley was selected as the number one Support Staff in Career and Technical Education in WV." Sterns is the Director of the Calhoun-Gilmer Career Center.
The Gala is part of the annual West Virginia Technical and Adult Education Summer Conference.
"Nancy received a $5,000.00 grant to be used for improvements at the Calhoun-Gilmer Career Center. On behalf of the staff and students I want to congratulate Nancy and recognize the outstanding contribution she has made to the Center for well over 30 years" said Stern.
Below is the nomination recommendation submitted by Sterns and Karen Blankinship, CGCC Health Occupations Instructor.
Nancy Weekley began working at the Calhoun-Gilmer Career Center in 1979, only 4 years after the Center had opened. She actually was a student in the Business program. Over the years Nancy has seen a lot of changes in Career Technical Education and a lot of changes in kids. She remains the biggest advocate for students and the most efficient office worker I have ever known. Her compassion for students and their education is unmatched. Her attention to details in the office and around the Center is amazing. She is respected by the staff, students and parents and often is everyone's advisor, counselor, doctor, therapist or friend. That may be a lot of hats for one woman to wear but Nancy's energy and effort never seem to waiver.
Nancy Weekley's duties often include many administrative responsibilities including finance accounting, administrative council and the administration of medicine for students. She was the Calhoun County Service Person of the year in 2007-8 school year. Nancy also currently is an active member of the Local School Improvement Council (LSIC) and has chaperoned many CTE field trips. Bryan P Sterns
As a CTE teacher I can honestly say Nancy Weekley is one of the most respected employees at our facility. Her work ethic as well as her professional report with other staff members has earned her this place in our building. Her position is one of great diversity but her attitude and work performance remains consistent on a daily basis. She is often right there beside instructors working side by side to make sure our fundraising campaigns are as successful as possible.
Nancy has also been a great asset to instructors during the Global 21 Performance Assessments. Because of her many years experience in the Business Industry, she is more than willing to help as an evaluator when needed. Our everyday financial and business matters run much smoother because of her never ending dedication to our facility and staff. If I could describe her using one sentence, I would say "She is the glue that holds our building together". Karen Blankenship, RN