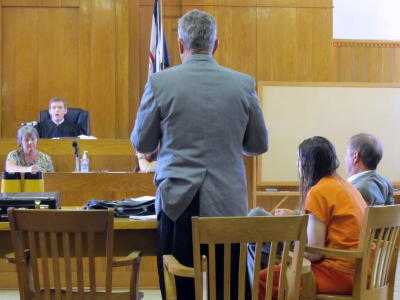 Attorney Ernie Skaggs (standing), Kreh and attorney
Tony Morgan (right) seeking discovery information in
murder case, being heard by Judge Thomas Evans III
A Calhoun woman who has been charged with the death of her two-month-old child made a court appearance in Calhoun Circuit Court Monday before Judge Thomas Evans III.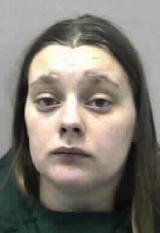 Attorneys Ernie Skaggs and Tony Morgan agreed with Prosecutor Rocky Holmes that competency issues regarding Ashley Kreh's (left) status to stand trial would be an issue during a hearing on August 9 at 9:30 a.m.
Kreh's lawyers indicated they needed an autopsy report and possibly other discovery materials.
Kreh and the child's father Ordie Rogers, Jr., 30, were arrested in February, 2012.
Kreh has been indicted on one count of murder in the 2nd degree and one count of child abuse resulting in death. She is currently in Central Regional Jail on $750,000 bond and on $5,000 bond on a criminal case brought against her in Braxton County.
CALHOUN COUPLE INDICTED FOR MURDER OF TWO-MONTH-OLD DAUGHTER - Infant Suffered Skull Fracture
FIRE MARSHAL EXAMINES SUSPICIOUS FIRE SCENE - Mobile Home Belonged To Calhoun Couple Charged With Murder