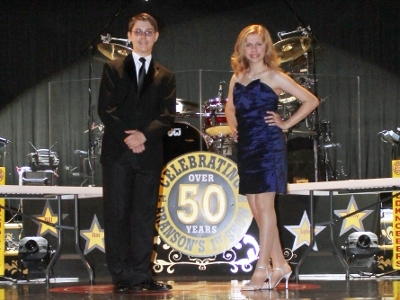 Twins Kurt and Kami Shultis of Spencer
Kurt and Kami Shultis of Spencer WV, competed in the Kids on First National Youth Vocal Competition on July 16, 17 and 18th at the Baldknobbers Theater in Branson, Missouri. The over 50 year old theater is home of the first Branson Show and graciously opened up their beautiful historic stage for the three day competition.
There were 137 total acts competing in a variety of genres, which included groups in vocal and dance, with youth/young adults aged 5-22 from all over the United States. Of the many very talanted musicians, there were only two representing the Mountain State, and Kurt and Kami had their work cut out for them.
When the curtain came to a final close, both Kurt and Kami secured wins for WV and for their hometown with 2 Silvers and a National win as well as the coveted title of "finest performance".
Kami brought home a second place in the Popular category in her division singing Linda Ronstadt's "When Will I be Loved", while her twin brother brought home a second place in the Combination category with his rendition of El Divo's "Nights in White Satin" sung in Italian.
Kurt also brought back a National win in the Country category with his Josh Turner song, "Your Man" and was deemed the act with the Most Finesse, giving him claim to the finest performance and crowd appeal during the three day competition.
This was an amazing opportunity for two 14 year old teenagers born and raised in West Virginia. Both Kurt and Kami plan to continue their love of music and performing and would like to thank all of the sponsors and raffle ticket buyers for their support in helping them with that endeavor.
Below are the youtubes of each performance: