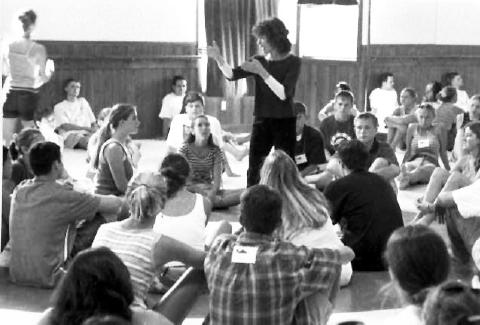 Jude Binder with visiting West Virginia
Governor's School for the Art students
This Fall Heartwood in the Hills will celebrate its 30th anniversary. Artistic Director Jude Binder and co-founder Frank Venezia opened the doors to Heartwood Dance Center in August 1982 offering dance classes for children, teens, adults and seniors. Since that time, the non-profit school for the arts has expanded its program to include art, music, movement, theatre and maskmaking. Heartwood has gained national recognition for its after-school and evening programs, and for its special events and productions.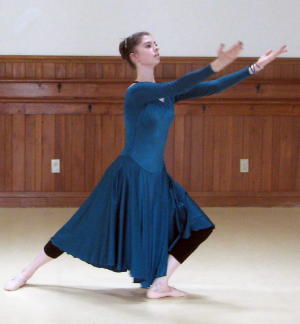 Mercy Roberts
Heartwood will welcome Mercy Roberts to its Dance Faculty this Fall. Mercy will be teaching Beginning Ballet on Mondays from 4:45 to 6:15 p.m. This will be part of the 2 class Performing Arts Program. Mercy began studying at Heartwood at age 8. She has been the assistant for Creative Arts for Children for many programs. Mercy is a member of the Heartwood Performing Arts Program.
Her dancing and masks have always been appreciated by the community. She has attended two West Virginia Governor's Schools - The West Virginia Governor's School for the Arts in 2011 and the West Virginia Governor's Honor Academy in 2012. She has also danced solo at the Calhoun County red Devil Revenue for the past two years. This past Spring Mercy choreographed her own solo for the Revue.
Mercy will co-teach students age 10 and up as part of the Performing Arts Program. Jude Binder will teach Theatre Dance. Enrollment is now open for Heartwood's Performing Arts Program. Students who wish to participate should plan on attending a welcome and orientation gathering on Saturday, Sept. 8 at 1:30 p.m. at Heartwood to meet with Mercy and Jude Binder. Students will also be fitted for the required dance clothes and shoes to be worn in their classes at that time. The Performing Arts Program will culminate with an open house and performance for family and friends on Thursday, Dec. 6, 2012.
Information about Heartwood, classes and fees are available at its website heartwoodinthehills.org and at Heartwood in the Hills on Facebook.