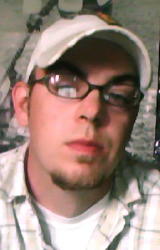 Levi James Fowler, 32, of Annamoriah (Calhoun County WV) passed away Tuesday, July 17, 2012 in Gainesville, Florida.

He was born in Parkersburg, the son of Terry and Sandra Villers Fowler. He was a 1998 graduate of Calhoun County High School and had been employed by DP Gunn Services.

In addition to his parents he is also survived by his three children, Ariah Dawn Fowler Bailey, of Chloe WV, Cadence Lanae Fowler and Keaton Joshua Fowler, both of Lakewood OH; one brother, Patrick Fowler of Annamoriah; one sister Julie Springston, of Washington WV; paternal grandparents, Glen and Dorothy Dye Fowler of Grantsville WV; three nephews, Corey Boone, Trent Boone and Ryder Springston; three nieces, Mariah Croft, Tavia Fowler and Cassandra Fowler; three aunts, Patsy Bowers, Chris Baloy and Sherry Villers; one uncle Darrell "Dink" Bower, several cousins and many friends.

He was preceded in death by his maternal grandparents George Darrell and Mildred Greathouse Villers and one Uncle William "Bill" Villers, Sr.

Funeral services will be held Tuesday July 24, 2012, 4:00 p.m. at the Stump Funeral Home in Grantsville. Rev. Barry Skaggs will officiate. Burial will be in the Bryner Chapel Cemetery.

Friends may call at the funeral home from 2:00-8:00 p.m. Monday.