Lawsuit claims police corruption may be involved
By David Hedges, Publisher
The Times Record
A Spencer man troubled by questions surrounding the disappearance of his daughter nearly 10 years ago has gone to court in an attempt to get some answers.
Jesse "Moe" Starcher has filed suit against the W.Va. State Police, Roane County 911 Center and City of Spencer.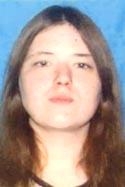 Starcher claims that police corruption may have played a part in the disappearance of his daughter, Christian Dawn (Starcher) Seabolt Left). She left her mother's apartment on Main Street in Spencer on the evening of August 31, 2002, to get a pack of cigarettes and never returned. She was 18 at the time.
Her skeletal remains and pieces of clothing were found more than seven years later, in December 2009, in a remote area of Wirt County, near the Roane County line. Police said it appeared they had been in the location for a long time.
Her father wants to hear a recording of a telephone call he says was placed to the 911 center by his daughter just before she disappeared.
He has made several formal requests to listen to the tape, all of which have been denied.
Starcher says he has received information that his daughter placed a 911 call and asked to speak to Huston Eads, a retired state policeman working for the Spencer Police Dept. at the time.
Starcher said he has received information that Eads met his daughter in the Spencer Middle School parking lot after she made the call.
After that, he has no idea what happened to her.
The lawsuit, filed in Kanawha Circuit Court by Charleston attorney David Karr Jr., says. Starcher feels "overwhelming guilt" because his advice to his daughter may have led to her death.
Starcher claims she came to him to tell him about crimes she witnessed, and after hearing her story, he instructed her to go to police with the information.
The suit says Seabolt reported she had witnessed a Spencer man being murdered.
According to documents with the lawsuit, Ronnie Stagg, confined to a wheelchair following a car wreck several years earlier, was found dead in August 2002. The death was ruled an accidental overdose.
Starcher says in the documents that his daughter said she was at a party on Aug. 2, 2002, at a home outside Spencer that was attended by several people in the local methamphetamine trade.
During the party, several pain patches were allegedly stolen from Stagg, who became irate after learning of the theft.
The documents claim a group of meth cooks at the party wheeled Stagg into a back room and stuffed pain patches down his throat.
Stagg was unconscious when he was carried out to his van, driven home and carried inside. Seabolt said she was also taken to Stagg's home. She said Stagg was still alive but unconscious when she went next door to talk to his brother, who found him, dead a short while later.
The documents also claim Seabolt told her father she had gone to the Clay County Sheriff's Department on several occasions with a man who would go inside and return with large amounts of both meth and cash.
She said she had used drugs with the same man and his brother-in-law, a former Clay County prosecutor, and that she had been present during drug transactions in which a man with a badge and a pistol in a holster she understood was a law enforcement officer was present.
The lawsuit says Starcher believes the investigation into his daughter's disappearance "might have been corrupted by recklessness and/or other intentional bad acts of local, county and/or state law enforcement officers in the Roane County and Clay County areas."
The suit calls the police investigation into the woman's disappearance a "sham" and says the contents of the tape are being withheld "primarily to protect law-enforcement personnel who may have had some level of responsibility in (Seabolt's) disappearance."
The documents allege that Judd Reid accompanied Seabolt on several occasions when she spoke to Eads. Reid was murdered in October of that year. A man described as Reid's best friend, Alex Vincent Golosow, also known as "Tattoo Vince" was later convicted in connection with Reid's death and is serving a life sentence.
The suit says Eads would become defensive whenever Seabolt would mention the possible involvement of law enforcement officers in drug activity.
The suit says that Starcher's own investigation leads him to believe Eads leaked information Seabolt was providing him about the murder of Stagg "in order to silence her suggestions of wrongdoing by those certain law enforcement officers in Clay County about which Eads had been so defensive."
Before coming to Roane County, Eads lived in Clay County and worked there as a State Trooper.
Efforts were made by this newspaper to contact Eads, who now lives in Oak Hill, for comment on the allegations in the lawsuit.
His phone number was not listed, but a call was placed to his son, who lives in Spencer, who said he would reach his father and give him the request.
The elder Eads has not contacted the newspaper.
Although his daughter's remains were found nearly three years ago, and they have been identified by an expert at the Smithsonian Institute, Starcher said they have not been released and no death certificate has been issued. Without that, the family cannot file a wrongful death suit.
"It puts a kink in what we need to do," Starcher said. "It's not about the money to me. I'll donate every penny I get to something."
The suit filed June 27 makes, four requests:
• That the W.Va. State Police and Spencer Police Dept. be required to turn over a copy of all records relating to the investigations into Seabolt's disappearance.
• The Roane County 911 Center provide Starcher with a copy of a 911 call allegedly made by Seabolt shortly before her disappearance.
• That Seabolt be declared dead, and a death certificate be issued.
• An injunction be issued to protect Starcher and others and that the court appoint an independent investigator to look into how law enforcement has handled the case.
The case has been assigned to Kanawha Circuit Judge Paul Zakaib.
Editors Note: The Hur Herald has extensively covered stories related to the missing girl's drug connections, Murder Mountain crimes, her disappearance and the discovery of her remains.
MURDERER OF CHRISTIAN DAWN STARCHER SEABOLT NEVER FOUND