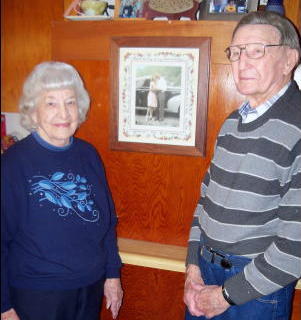 Glenna and her husband Paul at their Arnoldsburg home
Glenna S. Fleming of Arnoldsburg will celebrate her 90th birthday on August 5.
To commemorate this milestone, her family will host an Open House on Sunday, July 29 at the Arnoldsburg Community Building.
Friends and family are welcome to stop by between the hours of 1:00 and 3:00 p.m. to wish her a Happy Birthday and visit. (No gifts please, just good wishes)
If you're unable to attend, Glenna would enjoy receiving a card at 63 Altizer Road, Arnoldsburg, WV 25234.
Glenna retired from the Calhoun County school system after more than 35 years as a teacher and principal. She challenged thousands of young minds and lives, and her educational legacy is enduring.
She is the oldest child (of seven children) of the late Fenton R. and Opal Downs Stalnaker and has two surviving sisters, Emma Lou Chenoweth of Ravenna, Ohio and Orma (Toots) Downs of Southington, Ohio.
Glenna is married to Paul Fleming and has three children, Ron (Pam) Fleming of Walker WV; Sue (Mike) Haymaker of Bluefield WV, and Cheryl (John) McKinney of Glenville WV, She also has three grandchildren, Angela Ellis-Miller of Fairmont WV; Dee (Garald) Cottrell of New Bern NC and Ronnie P. (Valerie) of Parkersburg WV. She also enjoys her six great grandchildren and one great-great grandchild.