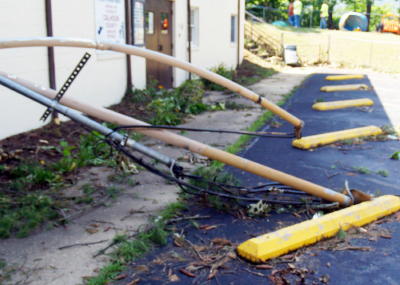 Downed power lines and debris behind
Building 2 at Minnie Hamilton Health System
Minnie Hamilton Health System was among the victims hit by a windstorm which took out power to all the hospital on June 29th. The main facility has full generator back-up but two separate buildings, one housing Billing, Daycare, Clinic C and The Mid-Ohio Valley Health Department and the other housing their Dental Clinic remained completely without power for 10 days.
The Day Care Center was unable to operate but billing moved into the main facility to offices with employees from other departments and clinic C moved in with Clinic A. The main facility remained on generator power for all of those 10 days. Fuel was purchased from usual sources but the National Guard brought two loads of fuel. The disaster team assisted local Fire Departments and the 911 Center in efforts to support those who required assistance during the disaster such as supplying cots for cooling stations and medical supplies.
Immediately following the 1st storm Minnie Hamilton's maintenance crew led by Larry Springston went into action inspecting the affected areas and monitoring infrastructure for defects. Other employees gathered the following morning to clear debris behind Clinic C where a number of trees had fallen. The maintenance department had someone on duty 24 hours a day during the disaster supplying water to employees and offering help where needed.
Minnie Hamilton also supplied courtesy beds to citizens with special circumstances such as oxygen and power for medical equipment along with assisting other facilities in the area and across the state by providing oxygen and other vital medical supplies needed due to the situation.
The cooler and freezer in the dietary department failed at the same time of the storm causing the dietary department to step up to take measures to ensure that patients, Long Term Care residents and employees were supplied meals without interruption.
At the Glenville Office, a generator supplied by a Threat Preparedness Grant administrated by the West Virginia Primary Care Association kept power to the facility during the outage.
"We would like to thank our staff for their extra efforts, community volunteers, Calhoun Office of Emergency Services, Grantsville Volunteer Fire Department Mon Power, Shentel, Frontier, the National Guard and all others who stepped up and provided assistance during the emergency", said Steve Whited, CEO. "Their extra efforts are appreciated and we thank them."