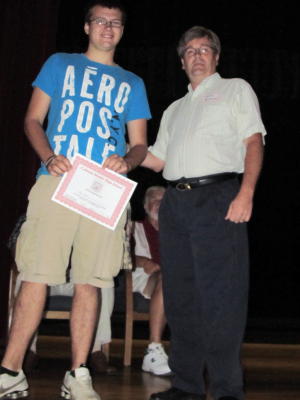 Ray Davis, Class of 2012, being awarded the Jim Weaver Memorial Scholarship for $500 to Glenville State College by Rev. David Weaver
Calhoun High graduate Ray Davis was awarded the first annual Jim Weaver Memorial Scholarship for $500 to attended Glenville State College.
The presentation was made by Rev. David Weaver, brother of the late educator.
Jim Weaver was a former Calhoun High School teacher who moved to Japan where he continued his career until his untimely death.
REMEMBERING: GO REST HIGH ROCKET MAN - Jim Weaver 1951-2008
The endowed scholarship has been established by Weaver's uncle, Donald Weaver (Class of 1948) of Virginia Beach, a former Calhoun educator and football coach and retired educator from the Virginia Beach school system.
Rev. Weaver recalled a long history of educators in the Weaver family, and his brother's exuberance for teaching.
Future scholarships will be awarded by a committee of athletic coaches.