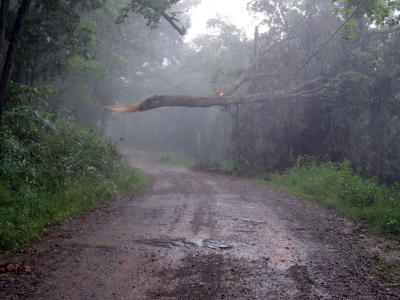 Storms swept across Calhoun Sunday (shown Pink Road)
insult to injury, although the rain was badly needed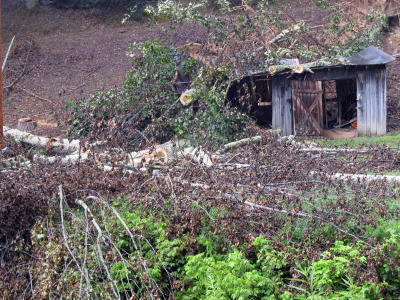 Evidence of wind destruction on Beech Road,
which was still without power Sunday
By Bob Weaver
The power company is reporting that 1,554 Calhoun customers still do not have power Sunday, the repair work slowed down by thunderstorms that swept across the area.
The wind left about 2 million people without power in several states.
At least 3,500 customers were without power in the county a week ago.
Many people do not have phone service. A report from Frontier is not available, but crews are out working.
More than 77,000 families in West Virginia were still without power Sunday morning, more than eight days after the devastating June 29 wind storm.
Thunderstorms that swept across the state Sunday caused more than 20,000 additional power outages.
0ES/911 Director Kathy Wood said the county's responders and four mobile units of the WV National Guard have been scouring the county, making well-being checks and delivering food and water.
Ice has been delivered to the county and is available at the Grantsville and Upper West Fork fire stations, the Arnoldsburg Community Building and Calhoun Control.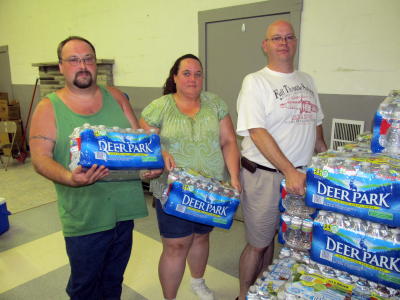 Volunteers man the Arnoldsburg center Sunday
(L to R) Danny May, Debbie Postalwait and Rick
Postalwait, with the help of the Arnoldsburg VFD
Wood said local retailers have also stocked their freezers with the ice and is being made available free to the public at Speedy Mart, Millstone Inn, Pit Stop, Bakers Mart and Cha-Tis.
The county's three emergency centers will be open at 9 a.m. Monday, Grantsville VFD, the Upper West Fork VFD and the Arnoldsburg Community Center, with water available. They can also be used as cooling centers.
People with home damage can go to disasterassistance.gov for information regarding disaster relief.
Wood said there appears to be minimal structure damage. FEMA does not cover the costs of lost food.
The Grantsville VFD answered a powerline fire on Rowels Run Sunday night.
"Our responders and volunteers are doing a great job," said Wood, acknowledging the helpfulness of neighbors.
Mon Power Customers without Power Sunday:
Braxton: 1,359
Calhoun: 1,554
Gilmer: 783
Ritchie: 1,707
Roane: 1,113
Wirt: 1,150
Clay: Large number/multiple companies