UPDATE - Robert Allen Starcher, Jr., 29, a former resident of Calhoun, has been arrested by authorities in Decauter, Alabama.

Starcher has been wanted on multiple charges related to crimes committed in Roane, Calhoun and the region.

He is wanted on Roane charges related to breaking and entering, grand larceny and transferring stolen property.

He has also been charged as a felon in possession of a firearm.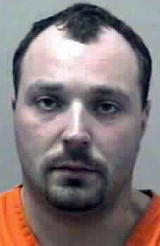 ORIGINAL STORY - The Roane County Sheriff's Department is still looking for Robert Allen Starcher, Jr., 28, who they believe has been in Calhoun County.
Starcher, a former Calhoun resident, has a lengthy criminal record. He is currently wanted related to breaking of his bail agreement and for his part in theft of equipment from various sites.
He had been spotted in Calhoun riding a 2007 ATV 4-trax, yellow in color, according to Roane Deputy Todd Cole.
Owners have posted a reward for the stolen ATV.
Starcher, who is originally from Rosedale, had been previously charged or sentenced for multiple crimes in most of the regional counties, mostly property crimes or obtaining money under false pretenses.
Trooper P. S. Fisher discovered four stolen chainsaws, two electric drills and other tools in Starcher's truck, with a value over $1,800. Some of the tools had been stolen from the Roane-Jackson Technical Center.
He is also wanted in connection to a theft from a Walton area property.
Starcher is also facing charges in Calhoun related to failure to report for a hook-up for home confinement.
Additional charges are pending in Jackson County.
The Roane County Sheriffs Department is seeking confidential information to locate Starcher. They can be contacted at 304-927-2540.
See related stories:
ARNOLDSBURG MAN ARRESTED FOR THEFT FROM WALTON RESIDENCE - Warrants Issued For Robert Starcher
ROANE FAMILY POSTS REWARD FOR ATV - Authorities Believe Stolen By Calhoun Man
STARCHER SENTENCED AGAIN FOR FALSE PRETENSES
ROBERT STARCHER SENTENCED TO STATE PEN