By Bob Weaver

REPRINTED FROM JULY 4, 2002

Among my earliest memories is seeing the tears of my mother and my future Aunt Eleanor streaming down their faces on a September day in 1943 at the departing of Uncle George "going away to service." I was almost three and World War II was in full force.

Grandma Ginny had led her kids, all grown, in prayer on the front porch of the old farm house, followed by a West Virginia goodbye, drifting to the car, talking, hugging and crying. George Washington McCoy was next to the youngest in the family of nine.

The four of us crowded into the car, rain pouring, for the nine mile trip to Grantsville. My mother made sure we had umbrellas.

The bus came to take him away while we stood across the street from the American Legion Hall, giving more good-byes and shedding more tears. Would he return from the war, a question asked in silence driving back to Hur, a tension repeated by hundreds of Calhoun families during those terrible days.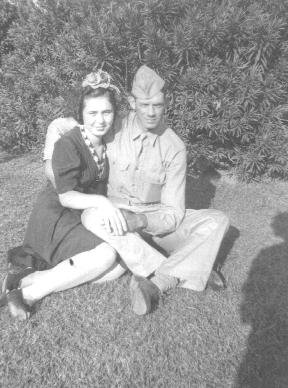 Uncle George and Aunt Eleanor before he went to the middle east
My Weaver uncles went off to war. Lauren flying 35 bombing missions over Germany, Delbert's plane going down in England and Ernest in combat in the English Channel before D-Day. At Sunday dinner those next years, the subject was the death announcements of Calhoun men killed in action.
It was the grim face of Grandfather John Ira McCoy huddled next to the battery radio, fine tuning the dial, listening to war news, that may be best remembered.
It was then I began to understand how important America was to me.
Despite all our problems and failings, America is a treasure of freedom and liberty, unheard of in the world.
The voices of dissent, reason and justice, thank God for them, have allowed us to keep the course of our great American Constitution, and defend ourselves abroad and from within.
It is of concern we have become overly comforted with the fruits of our labor, and fail to pay umbrage by voting or showing up to defend our liberities.
Such neglect means someone else will do it for us. It is then we must beware, a danger more evil than bombs of mass destruction.
Happy birthday America! God deliver us from our enemies and from ourselves.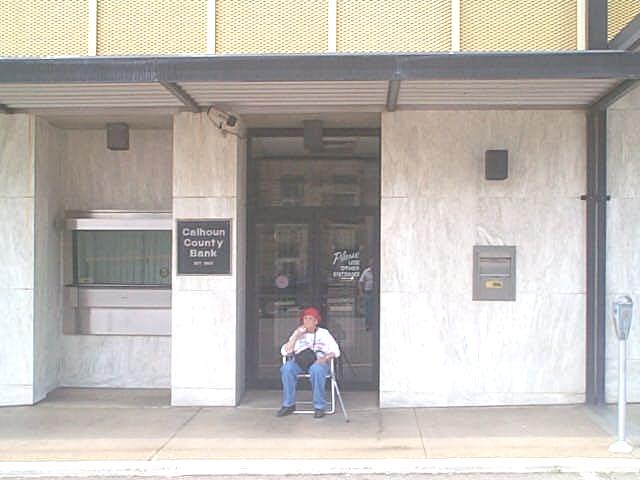 Elva Yoak, a lone attendee at VFW Memorial Day tribute in Grantsville, 2002, the rest were participants in the ceremony