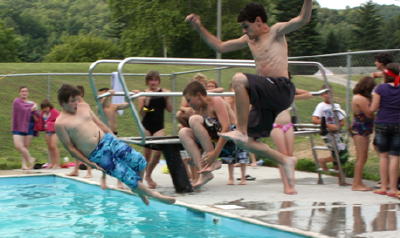 4-H Campers participating in contest at pool party
Submitted by Alexandria Snider
Administrative Secretary
Calhoun County WVU Extension Office
The deadline to sign up for the 2012 Calhoun County 4-H Camp without the late fee of $10.00 being added to the cost of camp will be June 14th.
Campers are welcome to register for camp up to the day of camp.
Calhoun County 4-H camp will be taking place at the Gilmer County Recreation Center June 24-28th. With tons of fun activities for campers.
Some of the classes offered include, Archery, Air Pistol, Air Rifle, Ceramics, Fishing, Rockets, Craft A Day, and many more.
Any youth entering the 3rd grade and not older than 21 as of June 20th, 2012 may sign-up for camp.
For more information, please call the Calhoun County Extension Office at 304-354-6332.