UPDATE 6/29 - A Massachusetts woman accused of posing as a boy and crossing state lines to prey on a Gilmer County, West Virginia girl has pleaded not guilty.

Carissa Hads, 25, of Quincy was indicted last week on one count of traveling in interstate commerce to engage in illegal sexual conduct. She entered a plea Thursday before U.S. Magistrate John Kaull, who ordered her held until trial.

Jury selection is set for Sept. 24 before U.S. District Judge Irene Keeley in Clarksburg.

Investigators say Hads pretended to be a 17-year-old boy and began an online relationship with the Linn, WV victim in 2010.

She visited the teen at least three times and had a sexual encounter with her in Lewis County in February, reportedly with the consent or knowledge of family members.

UPDATE 6/21 - A federal grand jury has indicted Carissa Hads, 25, a woman from Massachusetts for allegedly traveling to West Virginia to have sex with a minor, according to a news release from U.S. Attorney William J. Ihlenfeld, II.

Hads of Quincy, Massachusetts was named in a one count indictment charging her with traveling in interstate commerce with the intent to engage in illicit sexual conduct, officials said.

Court documents say that Hads posed as an 18-year-old man on a social media web site as well as took steps to change her appearance to deceive a female victim from Linn, Gilmer County.

The press release said Hads traveled at least three times to visit the alleged victim. She was arrested at the Pittsburgh International Airport by FBI agents on May 25, 2012, during one of her visits.

Hads has been ordered to be detained pending trial by a federal magistrate judge who found that she was a danger to the community as well as a flight risk, according to the news release.

Hads faces a maximum of 30 years in prison and a fine of $250,000.

ORIGINAL STORY -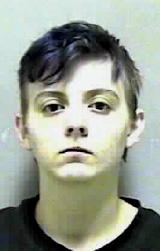 A 25-year-old Massachusetts woman is being held in North Central Regional Jail after she posed as a 17-year-old boy online in an effort to solicit a 15-year-old female from Linn in Gilmer County.
Carissa Hads used a male name to meet the girl on a social networking web site in October 2010, officials allege.
Investigators learned about Hads' involvement with the girl after receiving an online tip which alleged two children from Gilmer County were in danger.
The report says Hads threatened a 15-year-old acquaintance of the girl, who had reportedly questioned Hads identity.
The woman sent a cell phone to send naked pictures, court documents allege.
The complaint says the two arranged to meet at a Coraopolis, Pennsylvania motel in December 2011.
The girl's mother and two other 15-year-old children went with the girl and paid for Hads to stay in a separate room, according to documents.
The complaint says they had sexual encounters, once in Pennsylvania and when the 15-year-old girl's mother brought Hads to the family home at Linn.
Hads was arrested and charged with coercion or enticement of a minor.
She could face up to 30 years in prison, if convicted.