By John Griffin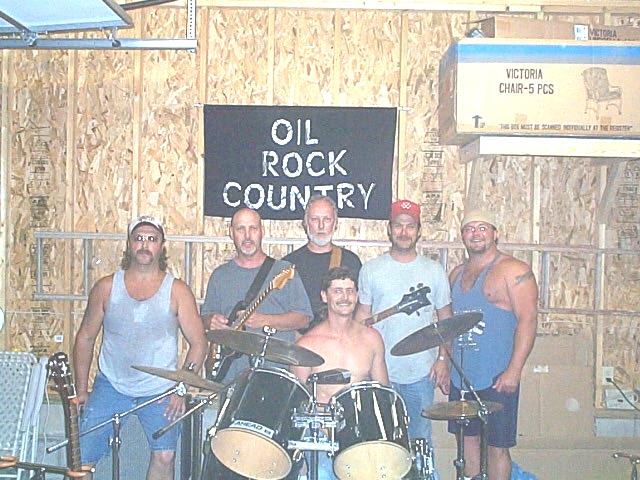 Seated at the drums: Mike Carpenter. Standing, left - right: Bobby Villers, Allen Valentine, Chester Lee Boggs, Joe Valentine, Randy Villers
A new band is in the makin's around Elizabeth these days. Some local musicians have teamed up with a neighbor from the Wood County area and call themselves "Oil Rock Country". The name says it all. They all share similar interests in music, Rock and Country, both golden oldies and current hits as well. And they generally practice in the Oil Rock section of Wirt County, striving to achieve a unique, high quality sound.
Starting in late February this year, band members Mike Carpenter (drums, rhythm guitar, & vocals), Bobby (lead vocals, drums, & rhythm guitar) and Randy Villers (lead & rhythm guitar, vocals), Allen Valentine (lead guitar & vocals), and Chester Lee Boggs (bass guitar & vocals) began jamming in Allen's garage up on Oil Rock about once a week as their work schedules permitted. The membership also includes Steven Settles, sound and lights man, and Allen's little brother Joe Valentine, the band's technical assistant.
The group's repertoire includes oldies and current hits by several of the greats: ZZ Top, Lynyrd Skynyrd, Travis Tritt, Bob Seger, Montgomery Gentry, John Cougar Mellencamp, Jimmy Buffett, Marshall Tucker Band, etc.
Presently the band plays wedding receptions, class reunions, private parties, and civic events as their work schedules allow. Their rates are "reasonable, a lot of times we feel as though we're paid for moving and setting up equipment and then play for free" said one member.
They're scheduled to perform at the annual Elizabeth-Wirt Volunteer Fire Department's Ice Cream Social on Saturday, July 6, from 8 - 11 p.m. at the Fire Hall. The local rescue service survives on revenues raised at the ice cream social every year and donations. It'll be an opportunity to support an excellent Fire Department that serves it's community VERY WELL indeed, and listen to some local talent while we're at it!
AND Oil Rock Country is planning to make a CD later on this fall. Two or three studios are under consideration, in the Marietta - Point Pleasant area. Who knows? Maybe the second CD will be produced on 16th Avenue in Nashville!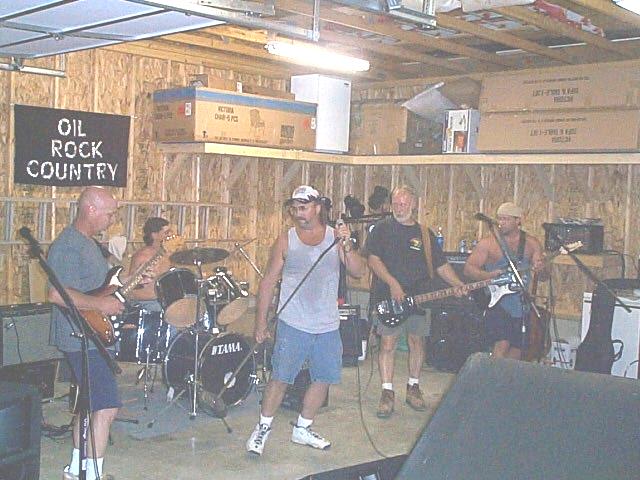 Practicing in Allen's garage