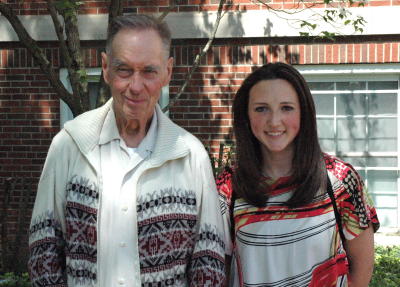 Helen Shaw Memorial Scholarship recipient
Jessica Montgomery with donor Mr. Carl Shaw
Glenville, WV - Gilmer County native Jessica Montgomery, a Glenville State College freshman Chemistry major with a Biology minor, has been awarded the Helen Shaw Memorial Scholarship for the Fall 2012 and Spring 2013 semesters.
"The Helen Shaw Memorial Scholarship is going to be a great help to me in the coming school year as I continue my studies in chemistry. Thank you to Mr. Carl Shaw and to all the professors who chose my essay for the scholarship," said Montgomery.
The $1,000 scholarship was created by Mr. Carl Shaw of Mt. Zion, West Virginia (Calhoun County) in honor of his late wife, Helen. Mrs. Shaw was an avid reader and realized the importance of good writing skills for the success in life that college students aspire to achieve.
"Mr. Shaw has opened his heart through this selfless act and is enriching the lives of young men and women from central West Virginia. He truly believes in the importance of reading and writing as a foundation for success," said GSC Vice President for College Advancement and Executive Director of the GSC Foundation Dennis Pounds.
To be eligible, students from central West Virginia completing their freshman year at GSC with a minimum GPA of 3.0 must complete an essay on what their attainment of a college degree will do to improve the lives of others in central West Virginia. Their submissions must also have a letter of recommendation from one of their college professors.
Essays and letters of recommendation written for the Helen Shaw Memorial Scholarship are reviewed by GSC Department of Language and Literature faculty and other selected professors, who work with Mr. Shaw to make the final selection based on grammar and content.
"Jessica wrote an excellent essay in which she clearly articulated her educational goals. Most important, she offered succinct and sincere commentary on how she would use her education to give back to her community and state. The committee was impressed with all of the student essays, but Jessica's stood out for its clarity and focus," said GSC Department of Language and Literature Chair Wayne de Rosset.
For more information on the Helen Shaw Memorial Scholarship, contact Pounds at Dennis.Pounds@glenville.edu or (304)462-6381.