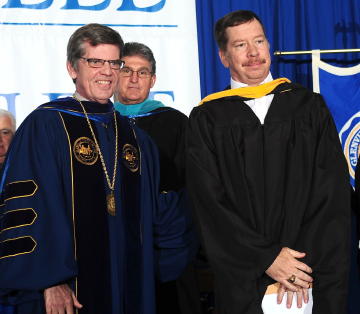 GSC Assistant Professor of Physical Science Larry Baker (R)
receives the GSC Faculty Award of Excellence from GSC President
Dr. Peter Barr (L) at the 138th GSC Commencement Ceremony on
May 5th. In back is US Senator and former Governor Joe Manchin
Glenville, WV - Glenville State College Assistant Professor of Physical Science Larry Baker is the 2012 recipient of the GSC Faculty Award of Excellence. Baker received the award at the 138th GSC Commencement Ceremony on May 5th. The 1988 GSC alum has worked at his alma mater for eleven years.
"This award was a total surprise, and I feel others at GSC are more deserving than I of this honor. I was blessed to be a graduate of this institution before moving on to graduate school. My GSC professors prepared me extremely well for success in academics and as a contributor to the community at large. Glenville State College has been my family's college of choice for generations. I hope my son and others will find our institution as it is advertised: Where You Belong!" said Baker.
Currently at GSC, Baker serves as Faculty Senate Vice President, science honorary Chi Beta Phi Co-Advisor, GSC Student Government Association Advisor, Higher Learning Commission Criterion Four Committee Member, and Promotion and Tenure Committee Chair.
In his community, he is a member of the Lion's Club and The Gideons International, Troop 39 Assistant Scoutmaster, Calhoun County High School Cross Country and Track Assistant Coach, and Local School Improvement Council Board Member. Baker is a former Minnie Hamilton Board of Directors member and Calhoun Middle School Assistant Basketball Coach.
Baker, a graduate of Parkersburg South High School, received his Bachelor of Arts and Bachelor of Science degrees in Mathematics and General Science Education 5-12 from Glenville State College in 1988. He earned a Bachelor of Science in Physics 9-12, Master of Science in Physical Science/Physics, and Master of Arts in Leadership Studies from Marshall University. He resides in Russett, West Virginia (Calhoun County) with his wife Vickie, a 1990 alum of GSC, and their son William, a ninth grade student at Calhoun County High School. His father, Edward R. Baker is a 1959 GSC alum.