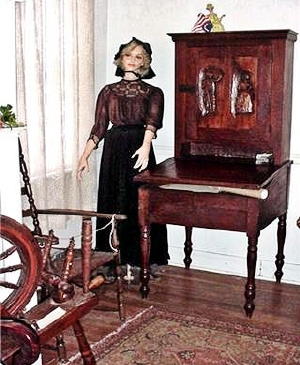 Submitted by Carole Menefee
Everyone is invited to attend an Open House at the Beauchamp-Newman Museum on Sunday, June 3rd. The Elizabeth Beauchamp Chapter Daughters of American Pioneers will be giving tours of the museum from 1:00 to 4:00 p.m. The museum, long known as the "Old Red Brick" is the oldest brick building in Elizabeth. Alfred Beauchamp, grandson of the first settler in the community, built the house between 1835-40.
In 1848 the first circuit court of newly formed Wirt County convened in the Beauchamp home. The River Room of the dwelling housed a store and post office for many years. Dr. Trout had a dental office there and Dr. Cramer treated many complaints and set many bones in the building. The house was later divided into apartments by Rev. Ed Black. In 1953, the Daughters of American Pioneers purchased the historical building from the Snodgrass family and established the Beauchamp-Newman Museum.
Mr. Robert B. Newman, a Beauchamp descendant, furnished the parlor with priceless family heirlooms. Items include the desk of Mr. Alfred Beauchamp, and a piano that belonged to Elizabeth Beauchamp Baldwin, the original county seal and the books written by William Wirt, for whom Wirt County was named.
A cradle made by a Newark, WV furniture maker in 1862, a rope bed, an unusual copper walk-in bathtub, and an oval floor mirror are displayed in upstairs bedrooms. The doll room contains many early period dressed dolls, a bentwood doll carriage and cradle.
Other items include a cobbler's bench, weapons, Indian artifacts, glassware, old cooking utensils, mannequins in costume and rooms of period furniture.
Visit with us on Sunday for an opportunity to view an impressive collection of Wirt County History. The museum is located on Court Street behind the courthouse in Elizabeth, WV.