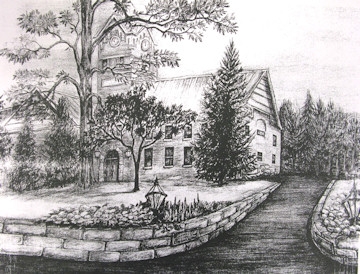 Artist's rendition of finished project. Work
is expected to be completed in about one month.
Story and Photos by Drew Moody
Work got underway this week on repairing and redesigning the entrance to Glenville State College's administration building.
The cut-stone retaining wall is as much a part of the historic building as the clock tower.
"Part of the wall was deteriorated, so we're improving the foundation and safety factors," said Tom Ratliff, who oversees building and ground maintenance.
The face of the wall is being both 'rounded-off' and lowered to increase visibility of oncoming traffic. New landscaping will be added as part of the project.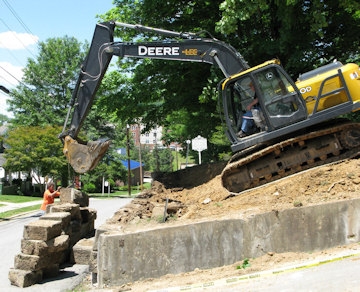 Rick Frame uses a trackhoe to gently lower pieces of the
cut-stone wall as part of the repair and redesign efforts.
About 40 to 50 feet of the wall will be impacted by the work.
Lead contractor, Rick Frame, of Frame Oil Field Services, Normantown, expects the job to be completed within the next 30-days.
Some grant monies were acquired for the project, budgeted at $30,000.
Mike Peters and Sons Construction of Sand Fork is also contributing to the redesign efforts.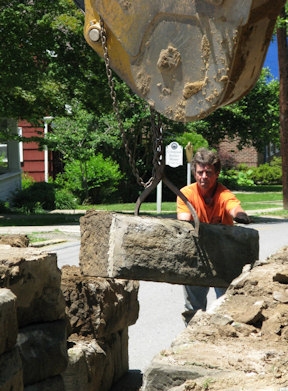 Mike Peters carefully guides large pieces of
cut-stone as the wall is taken apart for repairs.