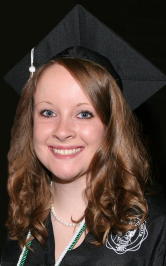 Briana Denise Blankenship, graduated Summa Cum Laude from Marshall University on May 5, 2012 with a Bachelor of Arts degree in Music Education.

During the commencement ceremony, Briana was recognized by the President of the University for her accomplishments during her time at Marshall, highlighting her study abroad experience in Italy during Summer 2011 where she received a private trumpet lesson with one of the most respected trumpet players in the world, Maestro Mauro Maur.

Throughout her journey at Marshall, Briana also had the opportunity to travel through various countries, which include Switzerland, Germany, and France, to share her gift of music.

Briana will be pursuing a Master of Music in Trumpet Performance degree from Marshall University in the Fall of 2012 as a Graduate Teaching Assistant within the College of Fine Arts.

Briana graduated from Calhoun County High School in 2008 as Valedictorian of her class. She is the daughter of Rick and Terry Blankenship and granddaughter of Marge Gherke all from Grantsville, WV.