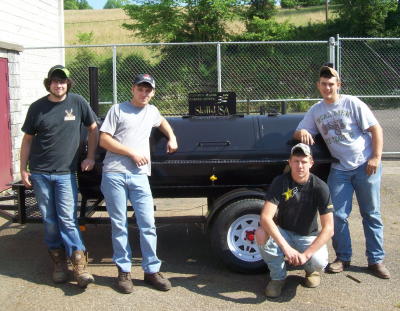 Career Center students build smoker-cooker as a class project
"When I was in High School many years ago the FFA always sold barbequed chicken at the Wood Festival to raise money for its members," said Carl Collins, Welding Technology Instructor at Calhoun-Gilmer Career Center.
Every year the SkillsUSA students at the Career Center struggle to raise money to attend State and National competitions.
"It has been my dream for several years to bring an old tradition back to the festival. This year students will be barbequing chicken on a new smoker-cooker that students built as a class project.
It has a 7' x 25" wood smoke box and an 8' x 30" grill section; plumbed with propane. Attached on the end is a 24" square warmer.
Collins says, many people do not realize what great opportunities our organization offers students. The last several years the Calhoun-Gilmer Career Center has brought home several Gold, Silver, and Bronze medals.
One of my students a couple years ago received a $12,000 scholarship for winning 1st place in welding, Collins said. We are very proud of each of our participants for just representing our school. "I hope if you are at the Wood Festival or maybe the Folk Festival you will look us up," we will leave a trail of smoke for you to follow.