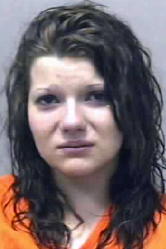 An Arnoldsburg woman, Samantha Brooke Starcher, 21, has been arrested after allegedly threatening her sister with a knife to her throat, according to a criminal complaint filed by Trooper D. C. Moore.

A day-long series of confrontations, which included Starcher's mother and sister, started during a trip to Parkersburg during which time the accused made threats to kill family members, according to the complaint.

The mother said the accused "wanted to kill her (the mother) and wanted her dead."

Later in the day, Samantha Starcher, "took a knife in her hand, walked behind the victim (her sister) and grabbed her by the hair," says the complaint, "... she jerked the victim's head back and ran the blade of the knife in a slashing motion near the victim's neck," according to the complaint.

Starcher has been charged with domestic assault and domestic battery to her mother and sister. She is being held on $7,500 bond.