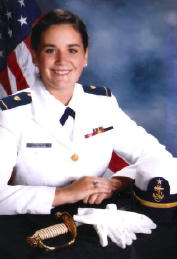 New London, CT - U.S. Coast Guard Ensign Amanda Robinson of Statesville, NC graduated from the United States Coast Guard Academy New London, CT on May 16, 2012. Upon graduation she was commissioned as an Officer in the U.S. Coast Guard.

Ens. Robinson successfully completed four years of intensive academic, physical, military and professional training, resulting in a Bachelor of Science Degree with a major in Operations Research and Computer Analysis. She received her commission from her brother, LT. j.g. Kevin Robinson, USCG.

Amanda is the granddaughter of Edna Robinson of Pleasant Hill and spent many summers in Calhoun County.

Ens. Robinson was in Echo Company, and in her senior year, she served as Echo Company Commander. She was on the collegiate sailing team and was a 4 year member of the USCGA men's tennis team. Robinson was also a member of the "Women in Leadership" forum and among her academic accomplishments, she appeared on the Superintendent's List. Her summer assignments included crossing the Atlantic on Bark Eagle, Serving aboard Coast Guard Cutter Galveston Island in Hawaii, and finishing a flight internship at the Coast Guard Air Station in Sitka, Alaska.

Following graduation, Ens. Robinson has been assigned to the Naval Air Station in Pensacola, FL , to commence basic aviation training and begin her career as a Coast Guard Aviator. Ens. Robinson is a 2008 graduate of North Iredell High School.

The mission of the United States Coast Guard Academy is to graduate young men and women with sound bodies, stout hearts and alert minds, with a liking for the sea and its lore, and with that high sense of Honor, Loyalty and Obedience which goes with trained initiative and leadership; well-grounded in seamanship, the sciences and the amenities, and strong in the resolve to be worthy of the traditions of commissioned officers in the United States Coast Guard, in the service of their country and humanity.

Considered one of the top educational institutions in the country, the U.S. Coast Guard Academy was founded in 1876. The Corps of Cadets is comprised of more than 1,000 students.