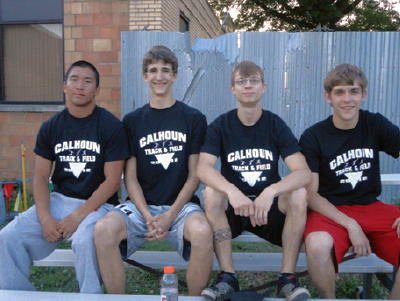 (L-R) Nathan Cosgrove, Shay Parrish, Cameron Litviak, and Isaac Coon
By Dan Cosgrove
The Calhoun High School Track Team traveled last Friday to Laidley Field in Charleston to compete in Regional IV's track meet. The 4 regional meets determines which runners will compete at the WV State Championship on Friday, May 18th and Saturday the 19th, also at Laidley Field.
Nathan Cosgrove, co-captain of the team, led the team qualifying for 3 races, including the 100 and 200 meter dashes and the 4 x 100 m relay race. However, in the 200 meter dash, he tied a runner from another region's school (Pocahontas High School) for the final position, and by flip of a coin or other arbitrary decision, the Pocahontas runner will round out the field.
Cosgrove has qualified for the state championship meet during all 4 years of his high school career, being the first athlete in Calhoun history to do so.
Cameron Litviak, the other co-captain, qualified in both the 100 meter and 4x100 meter relay. Litviak, also a senior, has been running for Calhoun for 3 years, making it to states each year.
The relay team has been the pride of the track program for 4 years. Last year it made it to the championship race where they earned a 4th place finish in the 4 x 100 relay. However, as in previous years, two of last year's runners graduated.
Shay Parrish and Isaac Coon were recruited to fill out the team, and through early races in Roane Country, the team looked like it was its old self. However, injuries ensued and other team members were recruited to keep the relay running through the season. Although 4 boys will be running (Cosgrove, Litviak, Parrish, and Coon), both Tyler Gerwig and James Adam are key contributors to the team's success.
Cosgrove and Litviak will run tonight at 4:20 p.m. with the relay team running tomorrow afternoon. Come on down to Charleston and root for the boys.