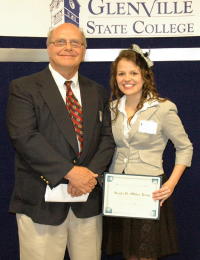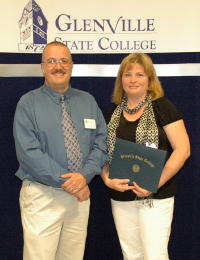 Kayla Miller-Roop (left) receives her award from Dr.
Charles Batson, GSC Associate Professor of Business and
Department Chair. Dr. John Taylor, GSC Professor of Health
and Special Education, presents award to Heidi Ann Allen (right)
Glenville, WV - Thirty students received Academic Achievement Awards at the 2012 Glenville State College Honors Convocation held in April in the Mollohan Campus Community Center Ballroom.
The awards recognized students who have demonstrated exceptional academic accomplishments, made contributions to the Glenville State College Community, and have distinguished themselves among their peers, the faculty, and staff.
The GSC Department of Business presented an Academic Achievement Award to senior Kayla B. Miller-Roop of Mount Zion. She was recognized as a Distinguished Business Student for the second year in a row.
Senior Heidi Ann Allen of Chloe received an Academic Achievement Award from the GSC Department of Education.