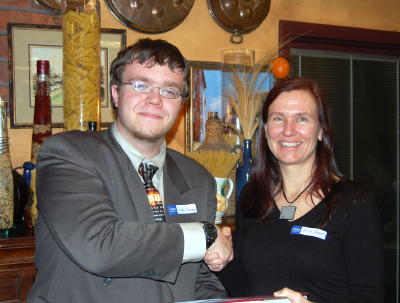 Logan Ramsey receiving his recognition as the awards banquet from
Dr. Erica Harvey, chemistry professor at Fairmont State University
Glenville, WV - Glenville State College junior Logan Ramsey was recognized as an outstanding junior chemistry major by the Northern West Virginia Section of the American Chemical Society (NWVACS).
Ramsey received his award at the NWVACS annual awards banquet on April 25, 2012 at Murielle's Restaurant in Fairmont, West Virginia. Students from Davis & Elkins College, Fairmont State University, Glenville State College, West Virginia University, and West Virginia Wesleyan College were recognized. Award winners from each school were presented with a copy of the Merck Index and a year's subscription to the Journal of Chemical Education.
Ramsey is pursuing a Bachelor of Arts Degree in Education with certifications in chemistry & physics (9-adult) and math (9-adult). He is from Bickmore in Clay County West Virginia.
"The Glenville State Chemistry Department is one of the best chemistry departments in the country. Without the help of Doctors O'Dell and Evans, I wouldn't be as prepared as I am for whatever plans my future holds," said Ramsey.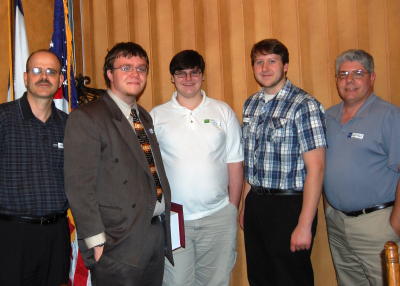 (L-R) Dr. Kevin L. Evans, Logan Ramsey, Robert
DeWees, Joe Overbaugh, and Dr. David O'Dell
GSC Professor of Chemistry Dr. Kevin Evans, GSC Associate Professor of Chemistry Dr. David O'Dell, and GSC students Robert DeWees and Joe Overbaugh of Calhoun Co. also represented Glenville State College at the banquet.
"Logan truly is an outstanding student, not only in his classroom performance, but also in his willingness to go above and beyond classroom expectations. He is a leader in extra-curricular activities such as the Student Members of the American Chemical Society and seeks out opportunities to further his knowledge while promoting GSC's science programs in the community," said O'Dell.
The American Chemical Society (ACS) is the world's largest scientific society and one of the world's leading sources of authoritative scientific information. A non-profit organization chartered by Congress, ACS has more than 164,000 members. ACS is at the forefront of the evolving worldwide chemical enterprise and the premier professional home for chemists, chemical engineers, educators, and related professions around the globe.