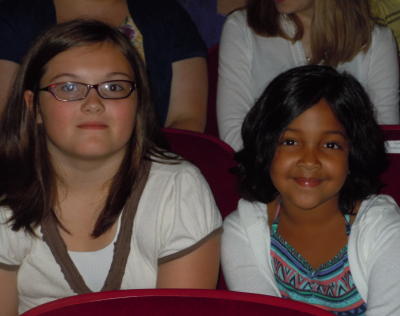 Elizabeth Nary (left) daughter of Teresa and Daniel Nary and Tysa James (right) daughter of Amanda Slider and Kenneth James are first place WV Young Writers winners from Calhoun County.
Nary, a fourth grade student and James, a second grade student at Arnoldsburg Elementary attended the WV Young Writers day on Friday, May 11 in Charleston.
Since its beginning in 1984, the Young Writers Contest has been held under the auspices of the West Virginia Writing Project. It is managed by CWVWP at MU South Charleston campus with the help of the WV State Department of Education.
WV Young Writers Contest, which is funded by the West Virginia Department of Education and supported by Marshall University Graduate College of Education and Professional Development, the University of Charleston, and the Charleston Daily Mail, showcases and honors student writers in grades 1 through 12 in every county of West Virginia.
Hundreds of students, teachers, and proud family members attend Young Writers Day at the University of Charleston each year. Such outstanding participation symbolizes the importance of writing for students and their teachers in West Virginia.