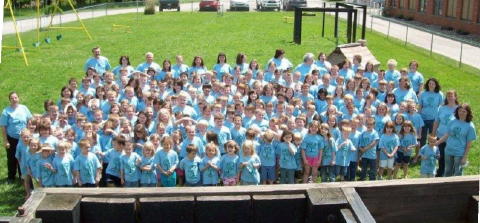 Arnoldsburg Elementary students and staff
sporting "Reduce, Reuse, and Recycle" t-shirts
Submitted by Kelley Sampson
Arnoldsburg Elementary School participated in West Virginia Make it Shine. Our project this year was recycling. The students were asked to recycle plastic, aluminum, and paper. The school also collected pop tabs to be donated to the Ronald McDonald house to help with expenses of people who have overnight stays. The students also collected approximately 15 pair of eye glasses to be donated to the local Lion's Club.
The students were taught about recycling from our guest speaker, Bill Howley. Mr. Howley spoke to the students about what is acceptable to be recycled at the recycling station in Grantsville. He also explained the process for recycling paper.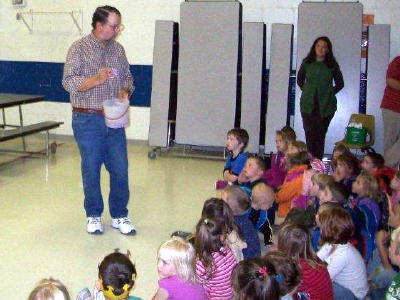 A special thanks goes out to Mr. Howley (above) for
taking the time to discuss recycling with the students
As a thank you to all the students and staff at Arnoldsburg Elementary for their hard work and dedication to recycling, each person was presented with a t-shirt that stated, "Reduce, Reuse, and Recycle" on the front and "Arnoldsburg Elementary School" on the back.
These t-shirts were made possible by several businesses and individuals including; Hupp Surveying, Furr's Auto Sales, Alfab, Rogers and Son, Aging with Grace, Momma T's, Michael Summer's Lawn Care, and Houchin's Construction.
Arnoldsburg's PTO covered the remaining cost of the t-shirts after donations. Thank you to all who helped make this year's "Make it Shine" a success.