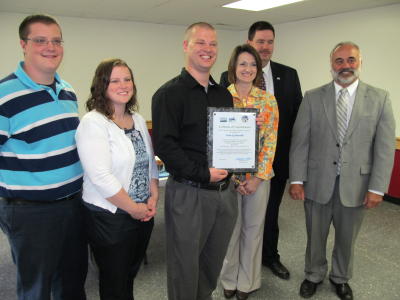 Mayor Curt Garretson receives certificate from USDA (L to R) Council members Andrew Smith and Erin Barnhart, Mayor Garretson, USDA Area Director Alan Harris, State USDA Director Bobby Lewis
Grantsville's latest $1,388,000 water improvement project is nearly completed, including the installation of an additional 300,000 gallon water storage tank, new lines to Minnie Hamilton Health System that will help fire protection, and other improvements to the town's delivery system.
Grantsville Mayor Curt Garretson was presented with a certificate by State USDA Director Bobby Lewis during a ceremony Wednesday in recognition of the projects completion.
The Grantsville water system supplies water to the town, the Pleasant Hill PSD and the Mt. Zion PSD, representing about 1,400 customers.
Town officials, USDA representatives and construction contractors join in celebrating the project
"Our agency is once again pleased to be part of a project that will increase the quality of life for rural residents of West Virginia," said Director Lewis.
"We're pleased with how well the project has gone, including the contractor who has met the time-lines," said Mayor Garretson.
Officials said the Town of Grantsville water system has been producing high quality water, and is among the highest rated water systems among 30 plants in 14 counties.