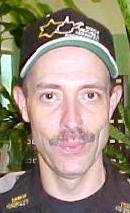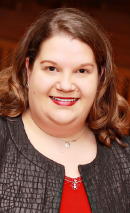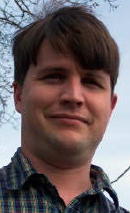 (L-R) Ballengee, Jones-Johnson, Nettles
Chief Deputy Carl Ballengee beat former sheriff Bill Stemple in the race for Calhoun sheriff, 620 to 481, with Eugene Stevens receiving 63 votes. Ballengee is a former sheriff and Stemple is a former member of the House of Delegates.
Incumbent Jason Nettles defeated Angie Hersman 847 to 335 in the Assessor's race.
Calhoun native Shannon Jones Johnson defeated incumbent Rocky Dale Holmes 818 to 310.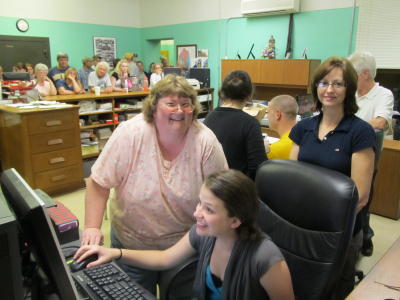 County Clerk's Office tally results ...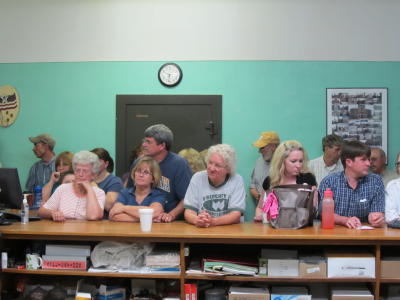 ... while candidates and voters wait for results
Larry Harris led the race for Board of Education with 857 votes, with Cynthia Dale at 720, both being seated on the board, with Joy Starcher coming in third at 665 votes.
In the 33rd District for House of Delegates, David Walker led the Calhoun ticket with 719 votes to Dan Sizemore's 378.
In the Calhoun, Clay, Gilmer delegate district, Walker had 2,013 votes to Sizemore's 1,283.
Voter turn-out was relatively high at 26.8%.
Other local races not contested:
Ernie Tingler, Assessor (R) 162
Kevin Helmick, Commissioner (D) 893
Magistrate (D) Teresa Robinson-868/Rick Postalwait-671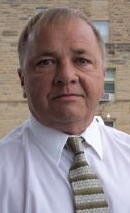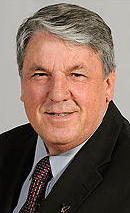 (L-R) Larry Harris and David Walker
CALHOUN RESULTS
In Calhoun and several rural WV counties, inmate Keith Judd got almost as many votes as President Obama.
U.S. PRESIDENT - DEMOCRAT
453 votes for KEITH JUDD/D
527 votes for BARACK OBAMA/D
U.S. PRESIDENT - REPUBLICAN
16 votes for NEWT GINGRICH/R
34 votes for RON PAUL/R
9 votes for CHARLES "Buddy" ROEMER/R
186 votes for MITT ROMNEY/R
35 votes for RICK SANTORUM/R
U.S. SENATE - DEMOCRAT
228 votes for SHEIRL FLETCHER/D
903 votes for JOE MANCHIN III/D
U.S. HOUSE OF REPRESENTATIVES - 2ND CONGRESSIONAL DISTRICT - DEMOCRAT
161 votes for DUGALD BROWN/D
266 votes for WILLIAM MCCANN/D
425 votes for HOWARD SWINT/D
U.S. HOUSE OF REPRESENTATIVES - 2ND CONGRESSIONAL DISTRICT - REPUBLICAN
241 votes for SHELLEY MOORE CAPITO/R
20 votes for MICHAEL DAVIS/R
15 votes for JONATHAN MILLER/R
GOVERNOR - DEMOCRAT
249 votes for ARNE MOLTIS/D
846 votes for EARL RAY TOMBLIN/D
GOVERNOR - REPUBLICAN
43 votes for RALPH WILLIAM CLARK/R
220 votes for BILL MALONEY/R
JUSTICE OF THE SUPREME COURT OF APPEALS - DEMOCRAT
451 votes for J.D. BEANE/D
328 votes for LETITIA "Tish" CHAFIN/D
413 votes for ROBIN JEAN DAVIS/D
65 votes for LOUIS PALMER/D
103 votes for H. JOHN "Buck" ROGERS/D
225 votes for JAMES J. "Jim" ROWE/D
COMMISSIONER OF AGRICULTURE - DEMOCRAT
250 votes for WALT HELMICK/D
522 votes for JOE MESSINEO/D
127 votes for STEVE MILLER/D
129 votes for SALLY SHEPHERD/D
14 votes for BOB TABB/D
TREASURER - REPUBLICAN
101 votes for STEPHEN R. "Steve" CONNOLLY/R
125 votes for MIKE HALL/R
HOUSE OF DELEGATES - 33RD DELEGATE DISTRICT - DEMOCRAT
378 votes for DAN D. SIZEMORE/D
719 votes for DAVID A. WALKER/D